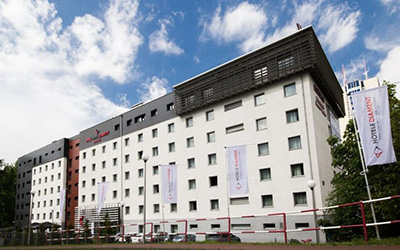 Park Hotel Diament Katowice is a modern, air-conditioned business hotel located at the motorway A4 in the city centre. Perfect location of the hotel makes it easily accessible from directions Kraków, Wrocław or Warszawa as well as from Pyrzowice and Balice airports. Spacious and modern hotel will live up to the expectations of even the most demanding guests. Business & More – customer programme introduced in the hotel – has been developed especially for those who travel in business, but it also offers convenient solutions for tourists.
Hotel Address:
Ul. Wita Stwosza 37
Telephone:
+48 32 720 00 00
Fax:
+48 32 720 00 01
Rating:

Website:
http://www.hotelediament.pl/en/park-hotel-diament-katowice.html
Reservation Email:
katowicepark@hotelediament.pl
Details
Restaurants
Photos
Guest Rooms & Features
The hotel offers 186 comfortable and well-appointed rooms that feature air-conditioning, satellite TV, complimetary Internet access, phone, working desk and a bathroom with bathtub or shower and a hair dryer.
An iron, an ironing board or a cot for our youngest guests can be delivered to the room on request.
Room types:
6 single Comfort rooms
156 double/twin Comfort rooms
17 double/twin Business rooms
3 Junior Suites
2 apartments
2 Comfort rooms adapted to meet the needs of the disabled
---
Conference & Convention Facilities
Modern and spacious Conference Center with a capacity of 250 people is perfect for conferences, trainings and interviews. Variously sized rooms with a moveable wall system make it possible to arrange the space according to your needs while complimentary Internet access and professional audio-visual equipment guarantee comfort and high level of service. Business Room located on the ground floor features all necessary office equipment and is perfect for smaller meetings. We also provide technical support and catering (coffee breaks, lunch) as well as help in organizing fringe events. High standard of service and years of experience in hosting events in the Park Diament Hotel Katowice guarantee satisfaction and business success.