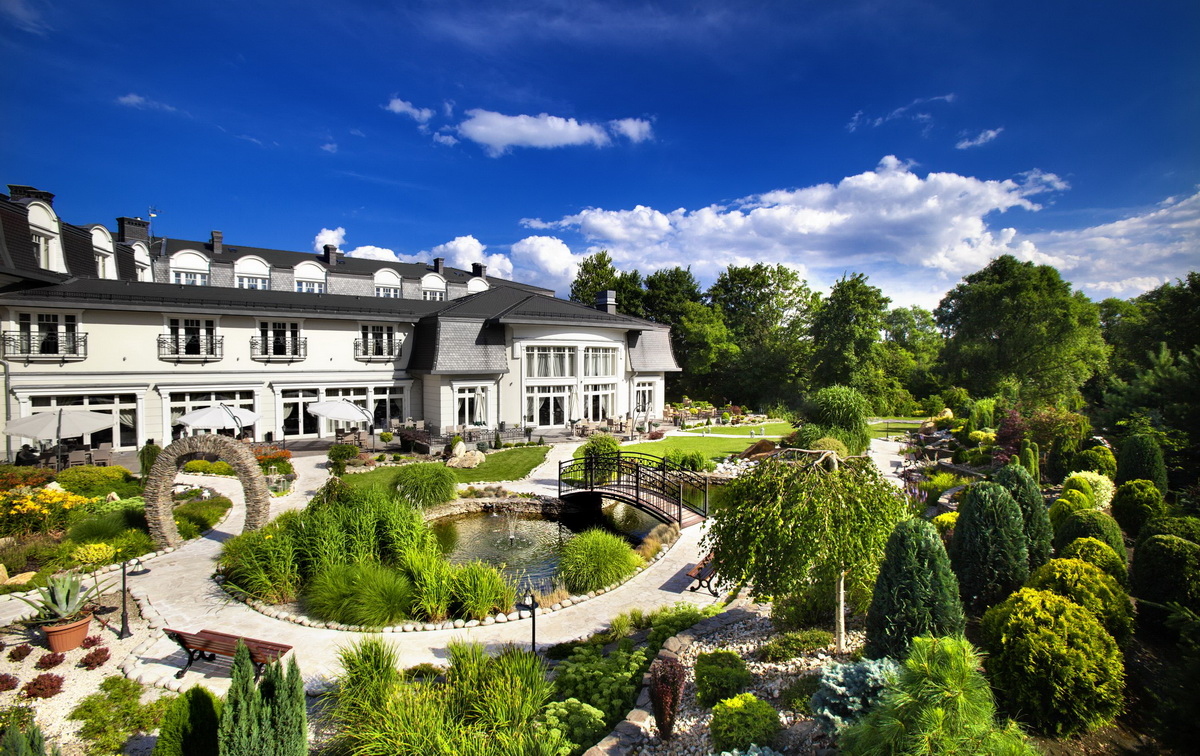 We would like to invite you to the only Silesian boutique Rezydencja Hotel ****boasting the most beautiful ball hall in southern Poland and surrounded with a charming garden, housing two ponds and stone terraces. How to find Rezydencja Hotel: Good access from A1 motorway 10 minutes' drive from Pyrzowice airport(free transfer for hotel guests) 20 minutes away from Katowice 15 minutes away from the stadium in Chorzów The guests can use monitored car parks, including bus car parks.
Hotel Address:
41-940 Piekary Śląskie ul. Stara 1
Telephone:
+48 324502588 515167168
Rating:

Website:
http://www.rezydencjahotel.pl/pl/hotel
Reservation Email:
recepcja@rezydencjahotel.pl
Details
Restaurants
Photos
Guest Rooms & Features
We offer 23 single rooms, 34 double rooms, 3 rooms for three, 6 Junior Suite rooms and 2 suites, 68 rooms altogether, some of them offering the possibility of adding a bed.
All the rooms were carefully designed, harmoniously combining stylish furniture, refined textiles, soft carpets and modern equipment: TV-Sat, telephone, safe, minibar and wireless internet access.
---
Conference & Convention Facilities
Rezydencja Hotel has five conference halls, with three of them offering customisable space layout. They can house up to 350 people altogether. All the halls are air-conditioned.
Depending on your needs, we offer:
Ball hall
Area:340 m2
Enabling to organise receptions for 100 to 350 people. It has a dedicated entrance, as well as terrace and garden exit. The unique acoustic properties of this hall enables to organise small concerts.
Banquet hall
Area:80 m2
Enabling to organise receptions for 30 to 65 people. It has a terrace and garden exit.
Crystal hall
Area:180 m2
Enabling to organise receptions for about 60 to 110 people. It has a dedicated entrance, as well as terrace and garden exit.
Small business halls
Area:25 m2
Designated for business meetings or occasional small parties. Each of them can house up to 20 people.
Halls equipment
A strong advantage of our Hotel is the complex equipment of the halls comprising professional audio-visual devices (multimedia overhead projector, screen, flipchart, projector table, Hi-Fi, professional speaker's stand).
On request you can borrow:
Notebooks
DVD, TV
Plasma TV
Presenter – laser pointer
Simultaneous interpreter
This rich and versatile offer makes Rezydencja Hotel an ideal place for organising various training sessions, banquets, seminars, conferences and business meetings.
THE ADDITIONAL ATTRACTIONS IN THE HOTEL:
To make your stay even more pleasant and to ensure a complex organization of an integration event, we have prepared a special offer of theme events including:
Live cooking  –  jthe unique show prepared by Wiesław Ambros
Barman show – presented in various styles by the world, European and Polish champions. The program includes various layouts, synchronic throws, juggling, pyramids and pyrotechnical effects.
Spanish Night – a breathtaking programme, offering, besides the Spanish Flamenco dance, the true taste of Andalusia.
---
Recreation & Guest Services
Based in the underground relax zone offers posibilty off using sauna, jacuzzi, salt cave and table tennis. 
You will be able to use fitness and gym soon .
---
Places of Interest
In your free time you can visit the major attractions of the closest vicinity:
Basilica of St. Virgin Mary and St. Bartholomew – 3 km away from the hotel
Bakers' Calvary – 3 km away from the hotel
Mount of Liberation (Kopiec Wyzwolenia) in Piekary Śląskie – 3 km away from the hotel
Black Trout Adit (Sztolnia Czarnego Pstrąga) and Silver Mine in Tarnowskie Góry – 12 km away from the hotel
Historical Market Square in Tarnowskie Góry, with a town hall, Evangelical church and Cloth Hall – 15 km away from the hotel
Dolomity Sports Valley in Bytom – 9 km away from the hotel
"Żabie doły" landscape and wildlife complex – 3 km away from the hotel
**** UPGRADE VOUCHER – valid on paid rooms only.
**** 20 % DISCOUNT VOUCHER FOR CONFERENCES AND BANQUETS. Voucher for 20% discount on rental of rooms for conferences and banquets (not applicable to catering)
CLUBHOTEL members receive 20% for room reservation.