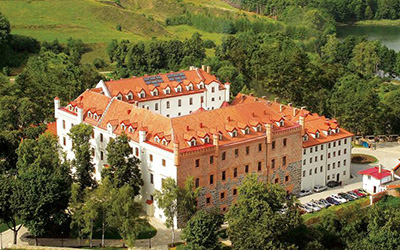 Where blue lakes intertwine with green grass and the joyous trills of birds interact with regular sound of trees with the fragrance of resin and moss, rises the Hotel CASTLE RYN**** - a place where the heart of Masuria beats and the omnipresent spirit of history makes time stand still. This unique luxury property is a carefully restored harmony of 14th century Castle of the Teutonic Knights and designer innovative architectural solutions, which cannot be found anywhere else in Poland. The motto of the Hotel is legendary hospitality expressed in an individual approach to Guests ( each stay and a conference has its guardian), and the fascination with the culinary world – a paradise for gourmets of life and cuisine from around the world.
Hotel Address:
Plac Wolno?Ci 2 , 11-520 Ryn
Telephone:
+48 87 429 7000
Fax:
+48 87 429 7001
Rating:

Website:
http://www.zamekryn.pl/
Reservation Email:
hotel@zamekryn.pl
Details
Restaurants
Photos
Guest Rooms & Features
The range of possibilities is provided by the original accommodation of 350 beds inegrated into the four wings of the Castle, each of them arranged differently, (Knight's, the Commander's, Prison's and Hunter's), a charming and cosy Villa by the Castle or the Mill Tavern, situated by the very Rynskie Lake.
---
Conference & Convention Facilities
12 meeting rooms that can accommodate up to 1,000 guests as well as cutting-edge audiovisual equipment, meet the standards of even the most complex logistics projects.