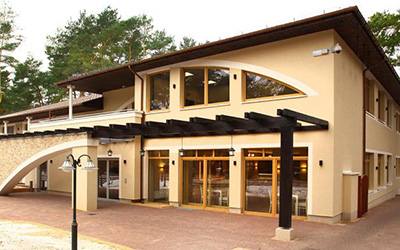 VITALIA Hotel & Resort is located in one of the most attractive tourist regions of Wielkopolska, in the areas covered by the zone Przemęcki Landscape Park, in the town of Boszkowo-summer resort, which has enjoyed a well-deserved reputation well-known holiday resort. At our facility consists hotel building with 49 beds, an elegant restaurant and 4 meeting rooms and a training team of 17 comfortable four-person bungalows (each of two 2-person bedrooms with separate bathrooms and a common living area with TV and kitchenette LED ) and attractive infrastructure (miniature golf, volleyball court, playground, walking paths from the fountain).
Hotel Address:
Dominicka 24 Boszkowo-Letnisko 64-140
Telephone:
+48 65 511 00 13
Rating:

Website:
http://www.hotelvitalia.pl/
Reservation Email:
vitalia@hotelvitalia.pl
Details
Restaurants
Photos
Guest Rooms & Features
Each room has individual finish – the walls are decorated with eye-catching photos with different themes – from the antique Venetian.
---
Conference & Convention Facilities
VITALIA Hotel & Resort is the perfect infrastructure and a team of experienced managers to guarantee a fully professional organization of all kinds of business meetings. Excellent conditions for their implementation at creating housing values ​​and varied culinary offer enhanced packet restaurant events.
An additional advantage of the hotel is its location, as it is located outside the city, in an idyllic location on the lake, less than 20 km from the national road connecting Poznań and Wrocław.
VITALIA Hotel & Resort is a 200 m2 of conference space, which, depending on the interior wall panels made ​​up of two to four fully functional, air-conditioned meeting rooms with the largest size of 140 m2. All rooms are equipped with modern technical equipment necessary to conduct classes and lectures, as well as wireless and structured access to the Internet.
---