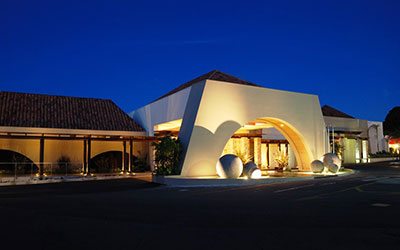 Set among lush gardens and tropical landscapes in an exclusive residential area our eco-friendly facilities are the ideal setting for relaxing moments, weekend getaways and productive business meetings. We have four incomparable international restaurants, including the first Hard Rock Café in Costa Rica. Our hotel is located 15 minutes from the Intl Airport, and 20 minutes from minutes San Jose Downtawn, 5 minutes.
Hotel Address:
3 miles, South from international Airport
Zip Code:
10102
Telephone:
506 2209 9800
Rating:

Website:
http://www.wyndhamherradura.com
Reservation Email:
reservaciones@wyndhamherradura.com
Details
Restaurants
Photos
Guest Rooms & Features
Three outdoor pools, which feature a pool bar and a refreshing waterfall
Complimentary Buffet Breakfast (served daily from 6:00 a.m. to 10:30 a.m.)
Exercise room
24/7 business center with access to photocopier, printer and fax
Laundry service
Free Wi-Fi, in all areas of the hotel
Transportation to and from the airport
Free parking in safe area
Travel agency (open from 9:00 a.m. to 6:00 p.m., Sundays closed)
Souvenir shop with jewelry, personal items and snacks
Spa with sauna, Jacuzzi and beauty salon (open from 10:00 a.m. to 9:00 p.m.)
Orchid nursery (open from 6:00 a.m. to 2:00 p.m.)
100% organic garden (coordinate a visit at reception)
Convention Center for 2000 people
12 versatile meeting rooms
Casino Fiesta (open from 2:00 p.m. to 6:00 a.m.)
Rent-A-Car (open from 7:30 a.m. to 6 p.m.)
Lobby bar (open from 2:00 p.m. to 6:00 a.m.)
Tour Office
Car Rental
Coffee Shop
---
Conference & Convention Facilities
With 81,000 square feet of meeting space and convention infrastructure for up to 2000 people, we can easily host seminars, conferences and other business events. Choose from a dozen modern meeting rooms and spacious banquet rooms, each equipped with the latest audio-visual technology and support staff. From custom LED lighting to a self-elevating stage, we offer state-of-the-art technology to ensure your presentations flow smoothly
---
Places of Interest
Poas Volcano, La Paz Waterfall, Coffee Tour, Multi Plaza Mall, City Mall.