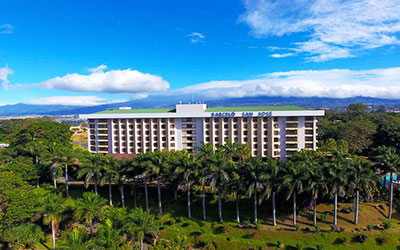 The Barceló San José***** (5-star) hotel (belonging to the Barceló Hotel Group and formerly the Barceló San José Palacio) is located in a quiet residential area of Uruca, just 8 miles from Juan Santamaría International Airport and 3 miles from the center of San José, the capital of Costa Rica. Well connected to the main business, shopping and leisure areas, such as the National Stadium. This emblematic urban hotel boasts great prestige and tradition in the country. The 254 rooms--renovated in 2016--are fully equipped with all of the necessary features to enjoy a perfect stay, whether for work or pleasure. The hotel offers free parking and gym for all guests, as well as an outdoor pool and lush gardens. The hotel houses 3 restaurants and a bar where you can enjoy a wide culinary selection and an extensive cocktail menu with live music. Its 17 meeting rooms feature different capabilities, with all the technology for conferences, conventions, and events. It also has a convention center with capacity for up to 1,100 people, the ideal setting for any event to be a complete success. The Barceló San José hotel is part of Costa Rican history and culture, a model of sustainability located in one of the world's most popular tourist destinations.
Hotel Address:
Freeway General Cañas // Km 3
Zip Code:
458- 1150
Telephone:
506 22202034
Rating:

Website:
http://www.barcelo.com
Reservation Email:
sanjose@barcelo.com
Details
Restaurants
Photos
Guest Rooms & Features
The spacious and bright rooms, renovated in 2016, have a classic and elegant style. Everything guests can need and more to enjoy their stay to the fullest.
Check-in from 14.00 | Check-out until noon.
Superior Room
Discover the 329.4 sq ft superior rooms, located on the hotel's lower levels. They stand out for their spaciousness and brightness. Additionally, they are fully equipped and offer a wide range of services and amenities so guests feel at home. They are exquisitely decorated and have a large sofa and desk for a more comfortable stay.
By staying in one of these, children under 12 will stay for free when they share the existing beds.
Premium Level Superior Room
These elegant 329.4 sq ft Superior Premium Level rooms boast impressive views of the mountains and the National Stadium. They are spacious, bright rooms located on the fifth and sixth floors, offering every luxury and access to our Premium Level services
By booking one of these rooms, children under 12 will stay for free when they share the existing beds.
Premium Level Suite
These rooms, measuring 646 ft2, divided into 2 rooms (living room and master bedroom) with a balcony, are located on the far sides of each floor of the hotel and provide complimentary access to the exclusive Premium Level services.
They have all been designed uniquely and exclusively to guarantee optimum comfort. Plus, thanks to their modern equipment, they guarantee the greatest comfort for the most demanding guests.
---
Conference & Convention Facilities
The Barceló San José**** hotel offers the best features for all types of professional events. It has meeting rooms for 10 or 1,100 people, making it the perfect hotel for conventions in Costa Rica.
The hotel has a contemporary design, and its rooms and common areas were renovated in 2015 to improve the services offered and become a leading convention hotel.
The rooms are equipped with Wi-Fi and the best audiovisual systems (including screens and projectors), making it easier to organize meetings of any type. The natural light in the meeting rooms give the hotel a warm atmosphere for a unique alternative in Costa Rica.
---
Recreation & Guest Services
Health and Beauty
In the hotel facilities, guests can enjoy a Beauty & Massage Salon. Must be booked 24 hours in advance by dialing 729 from the hotel.
Massage service hours:
Monday to Friday: from 10 am to 8 pm
Saturday: from 10 am to 6 pm
Sunday: from 8 am to 4 pm
Beauty salon hours:
Monday to Saturday: from 10 am to 6 pm
Sunday: closed
Fitness center
The hotel offers an exercise area with programs suited to the requirements of guests, who can access it free of charge.
We offer a sauna, steam sauna, jacuzzi, exercise equipment, free weights, cardio, and trainers to guide you. We also offer spinning, yoga, dance, and swimming classes as well as physical conditioning.
Gym hours:
Monday to Friday: from 6 am to 10 pm
Saturday: from 8 am to 8 pm
Sundays and holidays: from 8 am to 4 pm
By signing up for the gym, you'll get 10% off in all restaurants (excluding alcoholic beverages).
Sports activities
The Barceló San José hotel features a wide variety of sports activities and specially designed facilities to provide an experience that exceeds the most demanding expectations.
In addition to its fully equipped gym, guests who want to exercise during their vacation can enjoy several illuminated tennis courts to train both during the day and night. Tennis classes are also available for those who would like to improve their game.
Aerobic classes are offered for the perfect combination of cardiovascular exercises and music. This sport puts the body in continuous movement. It also improves flexibility, coordination, balance, and rhythm.
The hotel also featuresracquetball and squash courts. Both are played in a fully enclosed court, with 4 walls and a ceiling. The objective of the game is to serve or hit the ball in a way that your opponent cannot return it properly. It is undoubtedly the best way to have a good time while exercising.
Swimming pools and outdoors
The Barceló San José hotel has a spectacular outdoor pool for adults and another one for kids with views of the gardens. They are open year-round since the pleasant average annual temperature in Costa Rica fluctuates between 69.8 and 80.6 °F.
Plus, the hotel has a hammock service designed so guests can find the peace and tranquility they desire while enjoying a delicious cocktail or relaxing under the warm Caribbean sun. The pool area is open from 6 am to 9 pm.
The hotel's lush gardens are a magnificent backdrop for the perfect vacation. Despite being located very close to the city of San José, providing all of the comforts of an urban hotel, it is surrounded by lush tropical vegetation that will make guests feel like they are in an idyllic Caribbean oasis. A delight for the senses that is worth discovering.