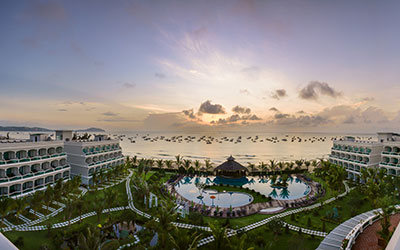 A marvelous stretch of white sand, a premier location, and a unique beach resort in Mui Ne, Phan Thiet, Viet Nam. These are the ingredients that make The Sailing Bay Beach Resort one of the best 4-star resorts which was built and decorated in the style of European. Sea view is the best solution for relaxing . The whole section is designed as the shape of sail to capture entirely the long beach scenery.
Hotel Address:
107 Ho Xuan Huong, Phan Thiet, Binh Thuan, Vietnam
Zip Code:
800000
Telephone:
+84 252 3836 555
Rating:

Website:
http://thesailingbay.com
Reservation Email:
rsvn@thesailingbay.com
Details
Restaurants
Photos
Guest Rooms & Features
We have plenty of rooms for you to choose from, Standard Room, Deluxe Garden Room, or you can enjoy the marvelous ocean view with Deluxe Ocean View, we also have luxury Premier Deluxe, Premier Suite which will surely meet your expectation.
Conference & Convention Facilities
All of our meeting rooms and ballrooms offer modern technology and cutting edge amenities to ensure that every meeting and exhibition detail is executed with ease and precision.
Recreation & Guest Services
When staying with us, we also have the tennis court for your recreation or football court for your team to play! Also, you can let your children play in our kids' corner and they will enjoy the space full of toys as well as fascinating cartoons.
Places of Interest
Your holiday would be more exciting not only exploring the well-known spots such as Hon Rom, Poshanu but also visiting Ta Ku mountain, Phu Quy island, Ke Ga lighthouse, Bau Trang, Ong Dia rocks, Suoi Hong, Suoi Tien or have a close look at the 22 metters sacred whale bones, Duc Thanh school… Many options are in your hands such as camping in the woods or relaxing in resorts.