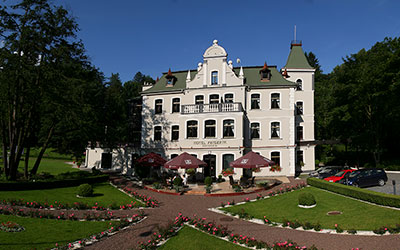 With an enchanting location in Duszniki Zdrój – only 1,5 hour away from Wrocław - next to the Spa Park, the Fryderyk is a historical boutique hotel with unique architecture and beautiful interiors. He was built in 1862 and has been meticulously restored. His public area and 20 individually decorated rooms and apartments combine 19th-century atmosphere with modern design.
Hotel Address:
Wojska Polskiego 10
Zip Code:
57-340
Telephone:
+48 74 866 04 88
Rating:

Website:
http://www.fryderyk.com.pl/
Reservation Email:
fryderyk@fryderyk.com.pl
Details
Restaurants
Photos
Guest Rooms & Features
The hotel provides accommodation for up to 56 Persons, has a stylish Restaurant, drink bar, wellness area, 2 conference rooms with capacity of 100 delegates, free W-Fi and private parking.
Spacious and comfortable rooms let everydoby breathe, rest and relax. In Hotel Fryderyk every room is a small work of art. Contemporary decor that reflects the discrete atmosphere of the XIX century elegance was designed by Dutsch designer Ester Verheij. Furniture has been imported from all over Europe and the rest of materials come from the best manufactures in England.
Every room has unique decor and original name. Names refer mostly to the Fryderyk Chopin`s life, e.g. "George Sand`s smile", "Chopin Park" or "Desire of feelings".
---
Conference & Convention Facilities
In Hotel Fryderyk we have 2 conference rooms – Chopin and George Sand.
Conference room "Chopin"
Area: 90m2, air-conditioning, full-screen, full darkening, lightning and audio-video system controlled from the PC by the organizer, wireless microphone, multimedia projector, flipchart, wi-fi.
Number of seats:
Cinema setting: up to 80 people,
School setting: up to 60 people,
Horseshoe setting: up to 40 people,
Coctail setting: up to 120 people.
Photocopying and fax services in reception.
Conference room "George Sand"
For maximum 15 people, provided with flipchart, multimedia projector, screen. Perfect for small bussiness meetings or negotiations.
---
Recreation & Guest Services
Our youngest guest are as important to us as their parents.
Therefore in Hotel Fryderyk children play while parents rest.
In Hotel Fryderyk we offer:
necessary things for children in rooms: travel cot, soft blankets, basket for diapers for babies, bath (extra charge 15 PLN/day), bottle warmer, books,
playroom with games, toys and stuffed animals,
special chairs in restaurant, safe and unbreakable tableware made of coloured plastic,
In Hotel Fryderyk we offer:
special diet on prior request (e.g highprotein, vegetarian),
free bike rental,
free nordic walking poles rental,
sunny terrace with sunbeds overlooking the garden,
spa zone (jacuzzi, dry and steam saunas, heated ceramic seats),
ski/bicycle storage.
---
Places of Interest
Hotel Fryderyk is the prefect place to spend holidays in mountains. Our Hotel is located in a picturesquare velley in Duszniki Zdrój. Location in a quiet area sourrounded by forests and mountains allows you to truly relax and breath fresh air.