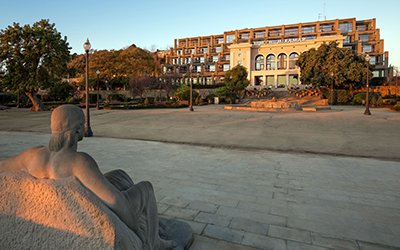 Experience the sensation of being in a unique place in Spain at the 5-star G.L. Hotel Miramar Barcelona. In an artistically restored palace on the slope of a mountain with marvellous views over the area of Las Ramblas, this luxury hotel in Barcelona combines the grandeur of the 1920s with contemporary design.Indulge yourself in the pleasant intimacy and personal service of our 75 rooms and savour the exquisite Mediterranean and Spanish cuisine in the elegant surroundings of the Forestier Restaurant. Enjoy a morning coffee on your private terrace with spectacular views over the city and the Mediterranean. Relax next to our blissfully peaceful outdoor pool or take an afternoon stroll through the gardens at Montjuïc and Costa i Llobera. Just ten minutes from the fashion boutiques, restaurants and vibrant night-life of the city centre, our hotel offers an exceptional option for staying in Barcelona.
Hotel Address:
Pl. Carlos Ibañez, 3
Zip Code:
08038
Telephone:
+34 932 811 600
Website:
http://hotelmiramarbarcelona.com/en
Reservation Email:
info@hotelmiramarbarcelona.com




Details
Restaurants
Photos
HISTORY
The hotel conserves the original façade of the palace built on this site in 1929, when Barcelona was celebrating its second Universal Exhibition. Whereas the first Universal Exhibition, in 1889, allowed the modernisation of the centre of the city, this second exhibition led to the reconstruction of the Montjuic area, with many buildings in the early twentieth century "novecentismo" style that have become authentic emblems of the city: the Plaza de España (Spain Square), the "Poble Espanyol" (Spanish Village), and, of course, the palace that is now our hotel. The exhibition's gardens, which added character to a large part of Montjuic, were designed by Forestier, and are an authentic display of the most representative species of the Mediterranean coast, a place where visitors can forget the outside world during an evening stroll.
The palace, designed by the famous architect Ramon Raventós and inaugurated by King Alfonso XIII, was the scene of elegant banquets and balls up until 1959, when the Spanish Television studios were installed there. In 1983. the studios were moved to Sant Cugat, and the building was left empty.
In 2006, following an imaginative restoration directed by the famous architect Óscar Tusquets, the palace recuperated its original elegance and glory, with the addition of a brilliant avant-garde décor and a broad range of deluxe services.
Now, the Hotel Miramar Barcelona is an exclusive lodging house that allows visitors to enjoy Barcelona from a privileged setting.
---
SERVICES
Whether your journey to the magnificent European city of Barcelona is for business or pleasure, our centrally-located hotel offers a wide range of services and facilities that will make your stay a unique experience of contemporary luxury.
Relax in body and mind in one of our elegant swimming pools. Treat yourself to a rejuvenating massage or body treatment in our spa. Make your next business meeting an unforgettable success with our event planning service.
Hotel Services
– 24 hour reception and concierge
– Disabled facilities
– Multilingual staff
– Covered parking
– High speed internet and Wi-Fi in all public areas
– National and international newspapers available to our guests
– Gastromic Restaurant
– Bar with terrace
– Spa by L'Occitane with 4 treatment cabins (two doubles)
– Sauna, steam room, pressure showers and Jacuzzi.
– Indoor pool
– Outdoor pool in a garden area. .
– Fitness center (From 06'00 to 23'00hrs)
– Babysitting (on request)
– 24 hs Room Service
– Laundry service
– Tesla electric cars charger
– Multibrand electric cars charger
– Smart electric bicycle (on request)
– High speed internet and free WIFI
Room services
– 47" Plasma TV
– 69 International channels
– Designer bathrooms featuring hairdryer, magnifying mirror, bathrobe, slippers and L'Occitane amenities.