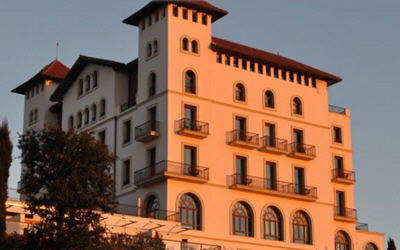 Thanks to its prime location on Tibidabo's Hill, the Gran Hotel La Florida 5 * GL is regarded as one of the top urban luxury resorts in the city. Ideal choice for those who wish to enjoy all that Barcelona offers in a unique setting of relaxation. Located just 20 minutes driving to the city center, either by taxi or free shuttle service provided by the Hotel. The Gran Hotel La Florida provides Guests with the opportunity to experience a Mediterranean lifestyle in which luxury, history and design blend together seamlessly. , Our fantastic location offers not only spectacular views but also an oasis of peace away from the hustle and bustle of the city.
Hotel Address:
Ctra Vallvidrera al Tibidabo 83-93 (junto al Tibidabo)
Zip Code:
08035
Telephone:
(+34) 93 259 30 00
Rating:

Website:
http://www.hotellaflorida.com/
Details
Restaurants
Photos
Location
Tibidabo, a balcony with views
The Gran Hotel La Florida is overhanging the town from the Tibidabo hill, with stunning and panoramic views over Barcelona and the Mediterranean sea. This luxurious urban resort is 500 meters above the sea. Only 15/20 minutes to the city center by taxi (around 15€, depending on traffic conditions). Or take advantage of our shuttle service free of charge for our guests. Close to the El Prat International airport (23 kms or 30 minutes car driving). The cost of a taxi journey from the airport to the Hotel is approximately between 40€ and 50€.
---
Rooms & Suits
70 gorgeous guest rooms featuring Art Nouveau style inspired decorations with oak wood floors, creamy colors and luxurious and modern furniture and fittings. There are huge Deluxe rooms, Terraces rooms, facing the city and seaside, as well as Junior Suites with separate living areas. The 7 Design Suites, some of them offering the possibility to enjoy an outdoor jacuzzi on the private terrace area, are decorated by internationally acclaimed artists such as Dale Keller, Rebecca Horn and Cristina Macaya. All guest rooms feature generously-sized marble bathrooms with in-floor heating and separated shower and bathtub.
---
Meetings & Events
The hotel offers the opportunity to hold private meetings and events in an unbeatable setting, in rooms with natural light, terraces with gardens and views of the city of Barcelona with capacity for up to 140 people. All of the rooms are fitted with the latest audio-visual technology and free Wi-Fi. Our team will advise you on all of the details in order for your event to be unique.
---