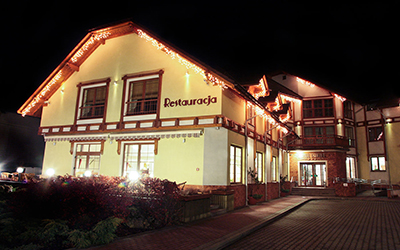 The MERCURE WISŁA PATRIA is a three-star facility, situated in the valley of the Kopydło stream, amidst the natural beauty and forests of the Silesian Beskid Mountains, right behind the center of the Pearl of the Beskid Mountains, namely the town of Wisła.
Hotel Address:
Kopydło 20, 43-460 Wisła, Poland
Telephone:
(+48) 033 855 38 09
Rating:

Website:
http://www.patriahotel.pl/
Reservation Email:
recepcja@mercurewisla.pl
Details
Restaurants
Photos
Guest Rooms & Features
We have prepared and placed at your disposal 42 rooms with the total number of beds amounting to 100, and with the possibility of providing rollaway beds. One room has been adjusted to the needs of the disabled.
Depending upon the kind of a room, you may choose either a room with a balcony, or without it, with a bathroom having a shower cubicle or a bathtub.
The kinds of the rooms: a single-bed room, the size of which is between 12 and 15 square meters; the offer includes rooms with the king-size bed of the width of 150 cm. A double-bed room, the size of which is between 14 and 20 square meters, either with the married couple size bed, or with two separate beds. A double-bed De Luxe room, the size of which is between 17 and 25 square meters, with a married couple size bed or separate beds, and the STUDIO room, which is the perfect proposal for a family of 4 people! This room is composed of 2 rooms, connected with one another. All the rooms are equipped with: a complete sanitary unit, a hairdryer in the bathroom, a telephone, a free-of-charge access to the Internet, a television set and a safe.
The Reception is at your disposal for 24 hours a day. If you wish to make inquiries about the details concerning our offer, call: 0 33 855 38 09, or write to the following e-mail address: recepcja@mercurewisla.pl. If you are our Guest, it is sufficient to choose the following number: 5500 in order to reach the Reception from your room.