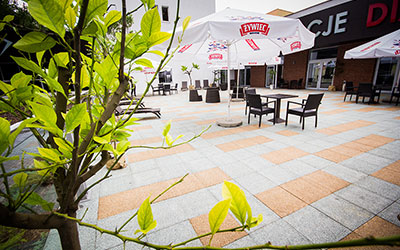 Hotel Diament Zabrze*** is a place where high standard of service and unique atmosphere guarantee a comfortable and pleasant stay. The location of the hotel – 1 500 m from A4 Krakow-Wroclaw motorway, 500 m from newly opened DTŚ diametral highway and only 3 km from the city center makes it easily accessible. From the center of Katowice and Gliwice divides us just a bit more 10 minutes and the nearest airport Katowice - Pyrzowice can be reached in less than 30 minutes.
Hotel Diament Zabrze*** creates together with Park Hotel Diament Zabrze**** a hotel and conference complex and the guests can use the facilities of both hotel.
Hotel Address:
Ul. 3-go Maja 122a, 41-800 Zabrze
Telephone:
+48 32 271 1000
Rating:

Website:
http://www.hotelediament.pl/pl/hotel-diament-zabrze.html
Reservation Email:
zabrze@hotelediament.pl
Details
Restaurants
Photos
Guest Rooms & Features
The Hotel offers 58 comfortable rooms, including new high standard rooms. All rooms feature satellite TV, complimentary Internet access, phone and bathrooms with bathtub or shower. Some of the rooms are additionally equipped with hair dryers. An iron, an ironing board or a cot for our youngest guests can be delivered to the room on request.
Room types:
• 12 Economy single rooms
• 4 Standard Plus single rooms
• 21 Standard double/twin rooms
• 13 Standard Plus double/twin rooms
• 2 Studios with kitchenette
• 6 Junior Suites
---
Conference & Convention Facilities
Park Hotel Diament Zabrze offers 3 dining rooms, banquet hall, bar, fitness room and a lobby. For the organizers of conferences, seminars and symposia we recommend a modern conference center for up to 700 persons, possessing 6 meeting rooms of various sizes, a bar and a room for videoconferencing. Each room is equipped with professional audio-visual equipment, which will allow to carry meetings at the highest level.
---
Places of Interest
The Guido Coal Mine
Town Museum
Queen Luisa Coal Mine
Concert Hall
Water Tower