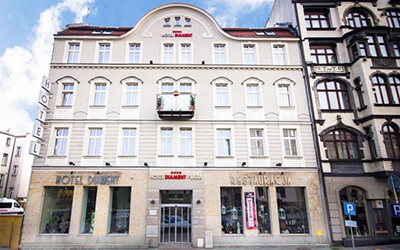 Hotel Diament Plaza Katowice is a comfortable hotel located in the centre of the capital of Silesia, in the immediate vicinity of the market place, railway station, Spodek Show Arena and important tourist attractions of Katowice. Perfect location of the hotel allows you to easily access all parts of the city. The hotel owes its unique charm to historic architecture combined with comfortable interiors. Business & More – customer programme introduced in the hotel – has been developed especially for those who travel in business, but it also offers convenient solutions for tourists.
Hotel Address:
Ul. Dworcowa 9
Telephone:
+48 32 746 70 00
Fax:
+48 32 746 70 01
Rating:

Website:
http://www.hotelediament.pl/pl/hotel-diament-plaza-katowice.html
Reservation Email:
katowice@hotelediament.pl
Details
Restaurants
Photos
Guest Rooms & Features
The Hotel offers 45 air conditioned, comfortable and cosy rooms that feature: LED TV with satellite TV, complimentary Internet access, phone, tea and coffee making set, minibar, bathroom with a bathtub or a shower and a hair dryer.
An iron, an ironing board or a cot for our youngest guests can be delivered to the room on request.
Room types:
9 single Comfort rooms
31 double Comfort rooms
4 Junior Suites
1 Apartment