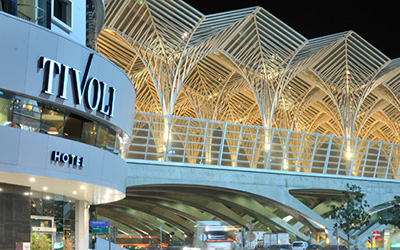 With a stunning view out over the river and Parque das Nações (former Expo site), this 4-star Lisbon hotel reflects the energy, technology, art and friendliness of Lisbon today. Excellent for business meetings or weekend breaks, the Tivoli Oriente can be easily reached from any part of the city or further away by using the Gare do Oriente train station, and it is 5 minutes from Lisbon airport. Take time out to enjoy the magnificent features of this stunning Parque das Nações hotel, close to MEO Arena, including the indoor swimming pool, the welcoming Tivoli Caffé Oriente and the Hippopotamus Grill Restaurant, the perfect place for fans of the best in grilled meat.
Hotel Address:
Av. Da Joao Ii
Telephone:
(+351) 21 891 51 00
Fax:
(+351) 21 891 53 45
Rating:

Website:
http://www.tivolihotels.com/en/our-hotels/lisbon/tivoli-oriente/the-hotel.aspx
Reservation Email:
htoriente@tivolihotels.com
Details
Restaurants
Photos
Guest Rooms & Features
Discover the different categories of rooms we have at your disposal.
Thematic and contemporary Rooms and Suites to meet the needs of the most demanding guests. The blue rooms are decorated in classical shades and materials, while the red rooms have a more vibrant and romantic atmosphere.
Types of Rooms
279 Rooms, including:
. 2 Diplomatic Suite
. 4 Executive Suites
. 11 Junior Suites
. 74 Superior Rooms
. 188 Classic Rooms
. 4 Specially adapted rooms for disabled guests
. 48 Adjoining rooms
---
Conference & Convention Facilities
The new conference centre in Lisbon is a strategic ally for your event. At the Tivoli Oriente hotel, in addition to the excellent capacity and accessibility of the installations, we also have a highly professional team who will coordinate every detail.
Each with a personality as distinct as the neighbourhoods they are named after, the 12 meeting rooms in Lisbon, which can hold up to 400 people, offer unique facilities for banquets, weddings, congresses, business meetings, conferences or product presentations.
Host a special party, surprise with an event serving stylish delicacies, or get married with a breathtaking view, at the Tivoli Oriente in Lisbon you'll always find the perfect solution to meet your needs.
Our hotel in Parque das Nações has rooms for weddings and receptions in Lisbon, which make sure that every celebration is an unforgettable event.
If you are planning to organize an event in the centre of Lisbon, enjoy the top facilities of our Conference and Events Centre with 7 different rooms and located on Avenida da Liberdade, right next to the Tivoli Lisboa and Tivoli Jardim.