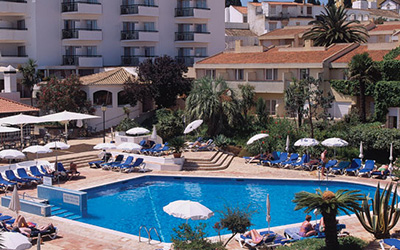 With its privileged location in the very centre of Lagos, this 4 star hotel in the Algarve is a real reflection of local culture, from the decoration by Maria José Salavisa to the white and blue walkways which connect the rooms, patios, restaurants and bar. To make sure that you enjoy your stay even more, the Tivoli Lagos provides a free shuttle to the Duna Beach Club, located only 2 kilometers away from the hotel, offering fun and entertainment for both adults and children. On the long white beach at Meia Praia, the Duna Beach provides the backdrop for beach weddings. Just a short walk from lots of entertainment options in the centre and the marina and just a few kilometres from the best golf courses in the Algarve, this friendly and welcoming beach resort in the Algarve is an excellent option for meetings and events, as well as for great getaway weekends and family holidays.
Hotel Address:
Rua Antonio Crisogono Dos Santos
Telephone:
(+351) 282 790 079
Fax:
(+351) 282 790 345
Rating:

Website:
http://www.tivolihotels.com/en/our-hotels/algarve/tivoli-lagos/the-hotel.aspx
Reservation Email:
htlagos@tivolihotels.com
Details
Restaurants
Photos
Guest Rooms & Features
Discover the different categories of rooms we have at your disposal.
With designer decoration by Maria José Salavisa, the key colours in all types of rooms are blue and white.
Located in a series of 9 buildings in the style of a small village, the 324 rooms and suites are all highly
original in their design. The hotel has 1 twin room especially adapted for disabled guests and around a
third of the rooms are designated for guests who smoke.
Types of Rooms
324 rooms, including:
. 11 Classic Suite
. 2 Junior Suite
. 29 Superior Twin Rooms
. 5 Superior Double Rooms
. 176 Classic Twin Rooms
. 56 Classic Double Rooms
. 45 Classic Single Rooms
---
Conference & Convention Facilities
Much more than just good business, what the Tivoli Lagos Events and Meetings Area guarantees is a successful experience. Here in the centre of Lagos, just a short walk from the marina and the lively city of Lagos, we provide an outstanding service with the support and dedication of an experienced team in the organization, planning and holding of large-scale meetings and celebrations.
If you are planning a wedding or reception with the sea as the backdrop, either in the hotel or at our Duna Beach Club we have just the right programme for your event. The innovative event areas of the Tivoli Lagos will give your event a unique atmosphere of exceptional glamour. In an idyllic setting with long white sandy beaches and golden sunsets, the Duna Beach Club and its stylish service provides the perfect touch for any event.
Much more that just simple meetings, conferences or banquets, your events in this 4 star hotel in the Algarve will live in the memory!