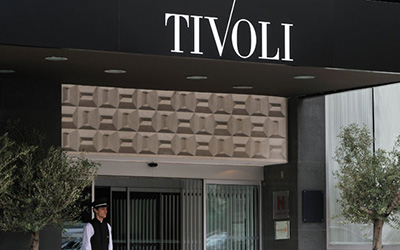 Located in the centre of the city of Lisbon, this 4 star hotel with its contemporary decoration is an unexpected oasis which meets the most demanding requirements. With welcoming rooms offering exceptional facilities in an intimate atmosphere for both business and leisure travellers, this hotel has a feel of simplicity and balance guaranteeing total relaxation. Any stay at this 4 star hotel should also include a visit to the next door Tivoli Lisboa hotel, where you can take advantage of all of the services on offer, ranging from bars to restaurants and the amazing outside swimming pool.
Hotel Address:
Rua Júlio César Machado, 7/9
Telephone:
(+351) 21 359 10 00
Fax:
(+351) 21 359 12 45
Rating:

Website:
http://www.tivolihotels.com/en/our-hotels/lisbon/tivoli-jardim/the-hotel.aspx
Reservation Email:
htjardim@tivolihotels.com
Details
Restaurants
Photos
Guest Rooms & Features
Discover the different categories of rooms we have at your disposal.
Rooms decorated with a contemporary and bright feel and designed to meet the most demanding of needs of those travelling on business or for pleasure. We have a total of 119 Classic and Superior Rooms with one room especially adapted for disabled guests. Equipped to the highest standards of quality, 5 floors are reserved for non-smokers.
Types of Room
119 Rooms, including:
. 24 Classic Rooms with King Size beds
. 18 Classic Rooms with twin beds
. 21 Superior Rooms with twin beds
. 56 Superior Rooms with King Size beds
. 1 Especially adapted room for disabled guests
. 5 floors for non smokers
---
Conference & Convention Facilities
The Tivoli Jardim is the natural choice for meetings in Lisbon which require discretion and privacy. Try our Primavera Room for select and small-scale events, or take advantage of the nearby Hotel Tivoli Lisboa for occasions which require greater space.
To add a special touch to your conference venue in the centre of Lisbon, opt for the charismatic building dating back to 1928, beside the swimming pool in our neighbouring hotel right next door. This is a multi-purpose and multi-functional area which has been totally rebuilt and improved and can be adapted to cater for a wide variety of events, from private parties to the most demanding of weddings and receptions.
You'll also have the support of an experienced team ready to provide you with everything you need down to the smallest detail to guarantee the success of your event.
Much more that just simple meetings, conferences or banquets, your events in this 4 star hotel in Lisbon will live in the memory!