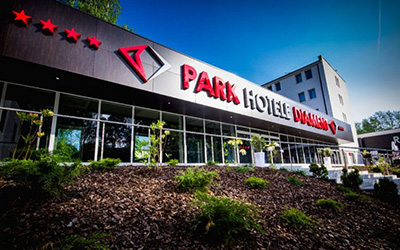 Park Hotel Diament Zabrze is new, the only four-star hotel in Zabrze, located near the major routes of Silesia (motorway A4, A1, DTS, DK88) and the historic coal mine GUIDO. The attractive location of the hotel allows you to move freely throughout the agglomeration - in just 10 minutes you can reach the Gliwice or Chorzów, in 15 minutes the city center of Katowice. Airport Katowice – Pyrzowice is only 30 km away from hotel, Krakow - Balice airport is just 85 km away.
Hotel Address:
Ul. 3-Go Maja 122A
Telephone:
+48 32 721 10 00
Fax:
+48 32 721 10 01
Rating:

Website:
http://www.hotelediament.pl/pl/park-hotel-diament-zabrze.html
Reservation Email:
zabrze@hotelediament.pl
Details
Restaurants
Photos
Guest Rooms & Features
All 74 rooms in Park Hotel Diament Zabrze have comfortable furnishings and modern interior. Each has a cosy, large bed, work desk, lounge set, LED TV, tea and coffee making facilities and mineral water. Thanks to the special lighting every guest can independently adjust its intensity and change color depending on your preference. All rooms are air-conditioned.
We offer:
– 30 single rooms
– 33 double rooms
– 5 business rooms
– 3 apartments
---
Conference & Convention Facilities
The modern and spacious conference center offers a varied size surfaces, designed for all kinds of conferences, seminars, symposia, and corporate meetings.
We provide our guests:
6 air-conditioned meeting rooms of various sizes, from 43 m2 to 370 m2, for 700 people
Videoconference room, ideal for management meetings
Restaurant, 2 bars
Monitored parking for 100 cars and coaches
Each room is equipped with professional audio-visual equipment, has the ability to darken and features individually controlled LED lighting that can be adapted for example the colors of the company. In all areas is also available free wireless internet.