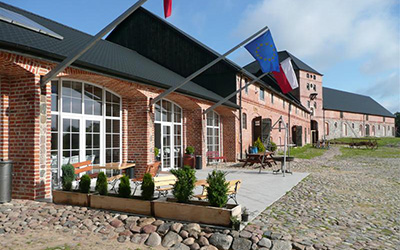 The palace is located in Siemczynie in the village midway between Czaplinek and Zlocieniec. The palace lies in the center of the village, adjacent to the historic park. Within the palace complex there are numerous farm buildings. A little farther begin the picturesque fields and forests belonging to the former estate.
Hotel Address:
Siemczyno 81
Telephone:
94 3758621
Website:
www.palacsiemczyno.pl
Reservation Email:
biuro@palacsiemczyno.pl
Details
Restaurants
Photos
Guest Rooms & Features
We offer for our guests comfortably equipped hotel type rooms in four different colors according to your mood. Every room has its own bathroom, free hotel type TV (10 channels), free hotel telephone, free internet connection and free safe.
For our Guests we offer comfortably equipped suits of different sizes, one- or two-room, 2-5 persons/suite. Each suite has separate entrance, one or two bathrooms (bath and shower or only the shower) and open kitchen. Each suite is equipped in free hotel type TV (10 channels), free hotel telephones, free internet connection, safe.
---
Conference & Convention Facilities
Complex conference – is two multimedia rooms with sound system, and a place to display multimedia – multimedia conference room, – a multimedia conference room dancing
---
Recreation & Guest Services
In the complex there is dayroom leisure – recreation, dance hall, billiards, table tennis, darts. Additional attractions:
• ceramic workshops in the forge,
• classes in weaving,
• horseback riding in the saddle or bryczce,
• playground and sports field,
• kayaking,
• numerous sailing routes,
• explore the historic Palace of von Goltzów along with the historical park.
• explore Siemczyna footsteps of history.
---
Places of Interest
Siemczyno is located at The Drawsko Lake. It is the biggest and the most beautiful lake in the Drawsko Lake District and the second in depth in Poland. There is 200 m to the beach. For all loving fishing there are great places to fulfill their dreams. There are so many smaller and bigger lakes ideal for fishermen.
For those who want to spend time on the water we can book the yacht, ship cruize on the Drawsko Lake or we can organize the canoe trip on the Drawa River (and not only).
There are also so many attractions for those who love walking and cycling. There are so many routs in the region. If you love mushrooms you find this place fantastic because there are so many forests around. In the backyard there is a place for grill, fireplace and parking lot. There is an old Baroque Palace and beautiful park with great Lovers Alley.
We also offer big, stylish recreation rooms. You can spend there nice evening, have a revelry, dance, etc.