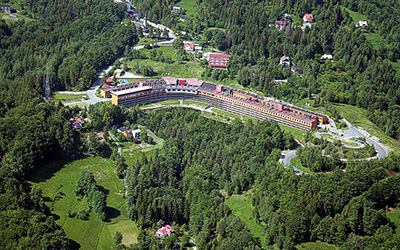 CKiR Orle Gniazdo is located at the feet of Klimczok and offers its Guests the view upon the highest peak of the Silesian Beskid - Skrzyczne. Virgin nature and the safe, ecological environment create an ideal surrounding to spend an active vacation, or do your business alongside.
Hotel Address:
Ul. Wrzosowa 28A
Telephone:
(+48 33) 81 97 300
Fax:
(+48 33) 81 78 200
Website:
http://www.orle-gniazdo.pl/
Reservation Email:
recepcja@orle-gniazdo.pl
Details
Restaurants
Photos
Guest Rooms & Features
CKiR Orle Gniazdo offers all together over 500 beds in 268 rooms: 131 comfortable rooms in high standard including suites and the lux suites, and 137 rooms in low standard. All rooms are equipped with bathrooms, TV SAT. direct dial telephone, internet access and balcony with the view upon the highest peak of Silesian Beskid. CKiR Orle Gniazdo provides facilities for disabled Guests. Our Guests have at their disposal: restaurant and banquet hall, cafe, snack bar, drink bar, disco, grill place.
---
Conference & Convention Facilities
CKiR Orle Gniazdo has over 1000 seats in conference halls, providing space for conferences, congresses, trainings, seminars and other scheduled meetings. Every year there are dozen parties held in our center, and many of our customers organized them cyclically. Our location, and technical and organizational abilities, make Orle Gniazdo ideal place for different events both for the small businesses and the large corporations.