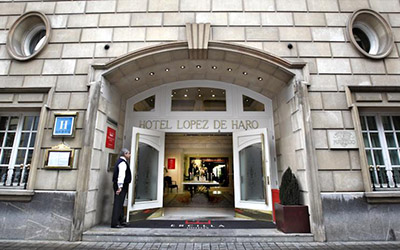 Open in 1990, after a complete renovation of a historical building formerly occupied by a well known local newspaper (last print can actually be seen now on the walls), Ercilla Lopez de Haro emerged as the true five star hotel in Bilbao, gaining a strong reputation for excellence and dedicated service and at the same time becoming a reference for celebrities, company executives and event organizers. A further step was taken when Frank Gehry himself chose Ercilla Lopez de Haro as his home during the designing process of what would later become one of the most visited and famous museums in the world and a landmark for Spain and tourists worldwide. The very first sketches for the Guggenheim Bilbao Museum with his first ideas for the site and structure were actually drawn on Ercilla Lopez de Haro letterhead stationery. Nowadays the Lopez de Haro is going through a new renovation that will update its facilities and services and surely provide greater comfort and satisfaction to our guests.
Hotel Address:
Obispo Orueta, 2
Zip Code:
48009
Telephone:
+34 94 423 5500
Fax:
+34 94 423 4500
Rating:

Website:
http://www.hotellopezdeharo.com/
Reservation Email:
lh@hotellopezdeharo.com
Details
Restaurants
Photos
Guest Rooms & Features
Design fully equipped queen bedded rooms and with every five star modern convenience to make every guest feel home. Flat Screen TV and Wireless Internet Connection. Amenities by Anne Semonin.
---
Conference & Convention Facilities
Exceptionally appointed for meetings and events for around eighty people in an atmosphere of elegance and privacy. It is usually the small details that can truly make the big difference. Presentations, conferences, celebrations … if you can not afford the slightest detail to go wrong, think of Ercilla Lopez de Haro.
---
Recreation & Guest Services
Only a few yards from Ercilla Lopez de Haro hotel you will find Oriental Spa, a space created with the purpose of reestablishing the balance of body, mind and soul, inspired by the most traditional eastern philosophies. The most famous and renowned massages from Thailand, Malaysia, China, Japan and Indonesia noow together in one single place, carefully designed to provide relax, harmony and weld. Professional staff with ample experience in some of the best and most well known spas in Malaysia, Thailand and Indonesia.
Oriental Spa will take you to Far East in a sea of sensations.
Ercilla Lopez de Haro now offers a special package for you including
2 Night Accommodation in Superior Twin rooms
Full Buffet Breakfast
Massage for two at the Oriental Spa (selected massages only: Oriental Express face; Special Feet treatment, Reflexology Body Scrub Oriental or Oriental Leg points)
only 318 euros vat incl. (159 euros per night)