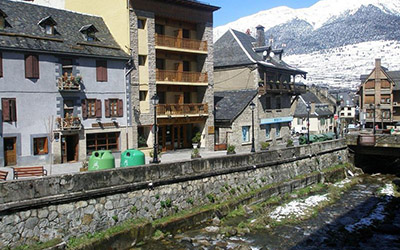 Three-star hotel Riu Nere is located in the centre of Vielha, in the heart of the old part of the city (C/ Mayor), next to the Town Hall, the Plaza de la Iglesia, the tourist office, museums and the area full of bars and restaurants. Vielha, the capital of the Valle de Arán, is characterized by its physical appearance as well as its human aspects with its culture and Occitan language. Stately buildings and the homes of old families have been preserved along the Riu Nere (which divides the population in two sections). The Museu Etnologic and the Iglesia Románica de Sant Miguel (Romanic church) are both noteworthy. Vielha offers a wide variety of activities: The Palacio de Hielo with its heated pool, gyms, sauna and ice rink; excursions by bicycle, car, 4x4, quad and horse; rural walks with an endless number of routes; fishing; hunting; and a wide range of adventure sports.
Hotel Address:
Major, 4
Zip Code:
25530
Telephone:
973 640 150
Rating:

Website:
http://www.husa.es/en/hotel-husa-riu-nere.htm
Reservation Email:
otel.riunere@husa.es
Details
Restaurants
Photos
Guest Rooms & Features
It offers 48 welcoming rooms with en-suite bathroom, satellite TV and Canal +, direct telephone line and free Wi-Fi.
---
Recreation & Guest Services
Other facilities include a traditional mountain lounge-bar, TV room, ski storage and a covered 150 m garage. In summer, it offers outings with a free mountain guide (25/06 to 15/09).