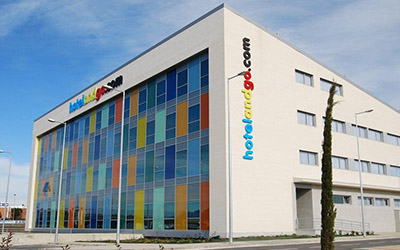 Hotelandgo.com Miranda is the first 3-star functional, modern and low-cost hotel to be concerned about what's really important - you. This is an innovative place with minimalist design that is completely prepared to meet today's needs.
Hotel Address:
Plataforma Log?Stica Arasur, Av.Alava 1
Telephone:
+945 356824
Rating:

Website:
http://www.husa.es/en/hotel-hotelandgo.com-miranda.htm
Reservation Email:
miranda@hotelandgo.com
Details
Restaurants
Photos
Guest Rooms & Features
It offers 95 bright double rooms with en-suite bathrooms and air conditioning, all equipped with the latest technology (23″ LCD TV and DIGITAL TELEVISION, and free Wi-Fi Internet access)
---
Recreation & Guest Services
Business centre, conference rooms, laundry service and free parking for cars, buses and lorries. Located in the Plataforma Logística Arasur next to the N-1, just 2 minutes from Miranda de Ebro, 10 minutes from Haro, 15 minutes from Vitoria and 20 minutes from Laguardia.