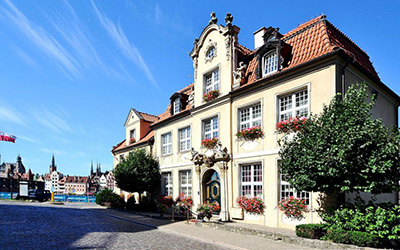 Podewils Hotel in Gdansk, thanks to its sophisticated eighteenth - century architecture, artistic ambiencewith the latest generation technology is a showcase of the highest world standard. With a great location at Gdansk marina, hotel offers luxurious rooms with an unforgettable view over the old town, historic Crane and river Motlawa. The convenient location provides easy access to the Old Town.
Hotel Address:
Szafarnia 2
Telephone:
+48 58/3009 560
Fax:
+48 58/3009 570
Rating:

Website:
https://www.podewils.pl/en/*****_Hotel_Podewils_in_Gdansk
Reservation Email:
gdansk@podewils.pl
Details
Restaurants
Photos
Guest Rooms & Features
At your disposal we have 10 rooms (1 – and 2 – the personal and suites) with a high standard, referring to the architecture of the palace interior. Offering a unique atmosphere we provide you with free access to modern media (Internet, TV, phone). In each room we took care of the smallest detail, and stylish furniture, and color-matched English wallpapers and fabrics highlight the uniqueness of the Hotel.
---
Conference & Convention Facilities
The elegant interior, comfortable working conditions and professional service make Hotel Podewils is an ideal place for business meetings, training sessions, intimate receptions.