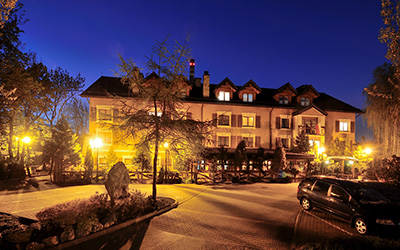 The advantage of Hotel Diament Vacanza Siemianowice*** is its location – 21 km from the airport Katowice-Pyrzowice, 15 minutes from the EXPO Silesia fairs, 7 minutes from the centre of Katowice (and Spodek) and 5 minutes do the shopping centre Silesia City Center and Silesian Arena and Silesian Culture and Leisure Park in Chorzow. Hotel is located in a quiet neighbourhood, near to the Pszczelnik Park, golf pole, shooting range and a pub "Klubu 80tka".
Hotel Address:
ul. Olimpijska 4
Zip Code:
41-100
Telephone:
+48 32 606 83 83
Rating:

Website:
http://www.hotelediament.pl/pl/hotel-diament-vacanza-siemianowice
Reservation Email:
vacanza@hotelediament.pl
Details
Restaurants
Photos
Guest Rooms & Features
Hotel offers 44 spacious and comfortable single, double and triple rooms, rooms for non-smokers and smokers and air-conditioned two-room apartment. In all rooms there is a bath room with shower and hair dryer. There is a bathtub in an apartment. Each room is equipped in Internet access, sat. TV and comfortable work desk with chair. In apartment additionally refrigerator/ mini bar.
Hotel offers room for disabled guests. Rooms can be additionally equipped with baby chair and bed.
On the guests requirement apartment with two nearby rooms may become a spacious complex with one entrance.
We offer:
24 double rooms
19 triple rooms
1 apartment
---
Conference & Convention Facilities
Hotel makes available 3 air-conditioned conference halls for 390 people to organize conferences, trainings, seminars and banquets. The area of all halls amounts more than 800 m2. Due to the fact that all halls are very spacious and their interior very rich, the organizes conferences are on the highest level. Troja and Marrakesh Halls are connected through a spacious fireplace hall. Additionally there is a wide entrance to the Troja Hall, that allowed cars to drive in an a spacious terrace by the hall.
All halls are equipped in overhead projectors, screens, flip-charts, professional sound system and Internet access.
We offer a professional technical and catering service as well as the organisation of sideshows.
---
Recreation & Guest Services
Sauna & SPA in Siemianowice Slaskie offers you the opportunity to take advantage of the sauna, steam sauna, herbal sauna and the infrared sauna. In the chill out area you will find an indoor and and an outdoor jacuzzi. Our Sauna & SPA area provides intimate respite and relaxation. We offer different kinds of massages and treatments for face and body, all matched to your individual requirements. We provide you with peace and tranquillity, you will find the energy and eliminate the tension.