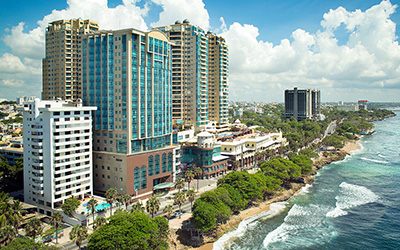 Catalonia Santo Domingo is a stunning 21-story hotel located beachfront, with windows that enjoy the beautiful view from all floors. Located at George Washington Avenue, thirty (30) minutes from Las Americas International Airport (AILA) and just minutes away from the business district and the historic area of the city of Santo Domingo. The privileged views of the Caribbean Sea and the outdoor pool on the seventh floor, are the perfect combination for a wonderful vacation or business trip. The facilities are complemented with a variety of services among which include fitness, restaurant, bar and Executive lounge. The hotel has 228 rooms decorated according to the demands of corporate client business and offer free internet and free WiFi in all areas of the hotel.
Hotel Address:
# 500George Washington Ave.
Zip Code:
10104
Telephone:
809-685-0000
Rating:

Website:
www.cataloniacaribbean.com
Reservation Email:
santodomingo.booking@hoteles-catalonia.es
Details
Restaurants
Photos
Guest Rooms & Features
Rooms total: 228
Room types and descriptions
Rooms offer spectacular ocean view with panoramic windows. Includes air conditioning, wardrobe, full length mirror, minibar, safe, desk, telephone, flat-screen TV with cable, free internet access, iron and ironing board, alarm clock with MP3, tea and / or coffee and room service. Bathroom with tub or shower and hairdryer
Room type: Ocean View, Ocean Front, Executive Ocean View, Executive Ocean Front, Executive Deluxe Ocean Front, Executive Suite Ocean View, Executive Junior Suite, Master Suite Ocean Front, Presidencial Suite Ocean Front
---
Conference & Convention Facilities
Catalonia Santo Domingo is the main business and conference hotel in the city. It o¬ers 1,150 square meters of event area, distributed in 10 rooms, located on one oor and connected by a large foyer as T. A total of 368 square meters of rooms o¬ers
natural light and sea view, with multifunctional services. A large living room of 605 square meters with capacity up to 700 people which can be divided into 4 rooms.
---
Recreation & Guest Services
Leisure time
The facilities are complemented with diversity of spaces from which you can also enjoy splendid views: fitness, restaurants and bars.
Fitness
Fitness room with modern equipment including weights and cardiovascular machines. Spectacular ocean views through panoramic windows. Open 24 hours.
Pool
Located on the seventh floor overlooking the Caribbean Sea with solarium area with loungers to enjoy the sun. Open from 7:00 am to 9:00 pm. Service Bar – Snack from 10:00 am to 6:00 pm.
Casino
Luxurious room of 2,000 square meters on the second floor with more than 100 machines, electronic roulette, 25 table games, an attractive poker room and betting. A place to enjoy evening entertainment and gambling in an exclusive environment with personalized attention.
---
Places of Interest
City, Old City Zona Colonial, Catedral, El Conde shopping/sightseeing, Casas Reales Museum