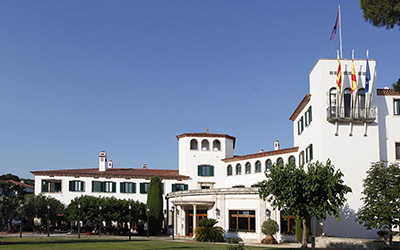 Catalunya's only five-star Grand Luxe resort hotel, the Hostal de La Gavina sits at the heart of the Costa Brava, on a small peninsula between two secluded bays, each with a sandy beach. Classically Mediterranean, the Hostal de La Gavina blends gently into its surroundings, the aromas of pine and bougainvillea scenting the warm evening air, with the sounds of the sea drifting in from nearby. While away the days luxuriating in our stunning seawater outdoor pool or heated indoor pool, taking lazy lunches or delectable dinners in our choice of restaurants, sleeping late and waking up refreshed for a game of tennis, an indulgent spa treatment, a little shopping or a day trip to sample Catalunya's cultural highlights.
Hotel Address:
Roserar s/n, 17248 S'Agaró (Costa Brava), Girona, España
Telephone:
+34 972 32 110
Rating:

Website:
http://www.lagavina.com/
Reservation Email:
gavina@lagavina.com
Details
Restaurants
Photos
Guest Rooms & Features
The Hostal de La Gavina has 74 rooms that are all different in size and decor even though they are very similar in charm and quality regarding their components. The rooms remain the real protagonists of the important artistic heritage of the Hotel that are preserved and cared in detail. There is a harmony between materials and objects that gives each room its own soul, familiarity and an union with the environment. From classic Mediterranean style to Imperial or Elizabethan, every rooms have fine silk upholstery, hardwood, Venetian Murano glass lamps, bedding made from high quality Egyptian linen and comfortable bathrooms with Italian marble.
No less important are the corridors on the three floors of the Hotel where you can find a variety of antique doors, altars of churches, Catalan pieces of the Romantic period and a collection of handmade antic chairs, nowadays considered as museum pieces.
---
Recreation & Guest Services
Is located in front of the Mediterranean Sea, the Gavina Spa is the ideal place for disconnection and relaxation.
We offer a unique and privileged swimming area for its magnificent views over the Bay of S'Agaró, along with two spaces for massages and treatments, saunas and a small gym.
Our menu offers a variety of beauty treatments both for men and women that include sensory and traditional massages, all created for the needs of our clients. Our professional staff will help you to choose your moment of relaxation and purification.
Come to visit our new area, Spa Hostal de la Gavina by Valmont, in front of the outdoor swimming pool, where you can enjoy a facial or body treatment in a perfect summer environment.