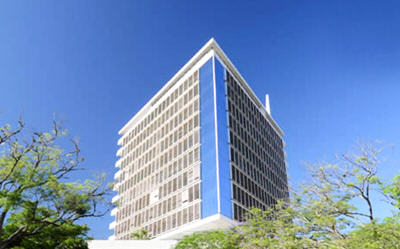 Hotel Address:
Hotel Guarani Esplendor Oliva esq. Independencia Nacional , Asunción 1302 Paragua
Telephone:
0810 345 5700
Rating:

Website:
http://www.guaraniesplendor.com/




Details
Restaurants
Photos
Esplendor is a new concept in boutique hotels in Latin America. Esplendor Hotels mix design, avant-garde and unique experience for the guests.In an innovative manner these Boutique Hotels combine trendy designs and comfort ensuring details in both carefully restored historical buildings and brand new modern buildings.The hallmark of Esplendor is a sophisticated style with premium rooms, art galleries, Bar & Lounge, Gym & Spa and Restaurant & Casino.Fën hotels provides services of hotel franchise and management. It has two brands with high recognition in Latin America called Dazzler Hotels and Esplendor Boutique Hotels.Fën Hotels has 12 years of experience in Latin America and continues to grow year after year.Fën Rewards benefits program is the frequent guest programme for chains Dazzler Hotels and Esplendor Boutique Hotels. You can get special benefits at more than 30 hotels of both chains.