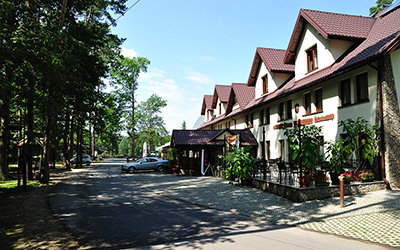 GRAND CHOTOWA Hotel*** SPA & Resort in Chotowa is located in the Podkarpackie Voivodeship, approx. 12 km from Dębica and 20 km from Tarnowo, near the E4 international route. The 14 hectar complex is surrounded by a beautiful scenery composed of vast pine-oak forests and located in the direct vicinity of the reservoir with clear, moving water. It is a perfect place for holiday leisure, trainings and organized trips.
Hotel Address:
CHOTOWA 87c, 39-217 Grabiny
Telephone:
14 670 65 00
Rating:

Website:
http://grandchotowa.pl/
Reservation Email:
recepcja@grandchotowa.pl
Details
Restaurants
Photos
Guest Rooms & Features
n our hotel, we have 22 standard rooms and 2 suites at our guests' disposal. These cozy and stylishly decorated rooms with en-suite bathroom, TV set, Wi-Fi and telephone will provide a comfortable stay to all our guests. Our rooms are available all year round. The hotel's enclosed area is being monitored 24/7. We also have a free car park for our guests! Our professional, discrete and friendly hotel staff will do their best to meet all your expectations. The surrounding pine-oak forests will help you fall sound asleep more easily than at home! The room is equipped with basic cosmetics, towels, SPA bathrobes, a hair dryer, shoe cleaners, sewing kits and others…
---
Conference & Convention Facilities
GRAND Chotowa Hotel*** SPA & Resort is a perfect place for a conference, training or business meeting.
Our aim is to organize events that will stay in the memory of the participants for long. Therefore, we provide proper audiovisual setting, modern devices and artistic program. You can have a formal gala or an evening themed party. We will organize for you a conference to fit the success of your company!
We have 4 rooms which are used as conference rooms. The biggest one ("Time Machine" Hall) can seat up to 700 people (the number depends on the arrangement of chairs and tables). We have also all indispensable multimedia devices at your disposal.
At your wish, we can provide complex services in terms of organizing your conference or training, including such aspects of the organization as selecting the best lecturers and creating the program of the event.