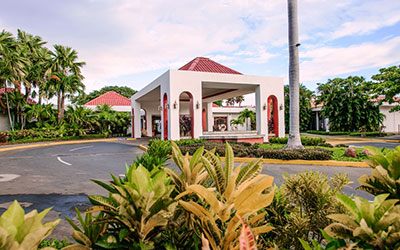 Airport Hotel surrounded by tropical lush gardens, complete Fitness Center with Sauna, Steam Bath, Massage Services, Casino, Outdoor Pool, Tennis courts, 2 Restaurants and a Bar. A Convention Center with flexible meeting rooms and Business Center. Laundry service, taxi, ATM, beauty parlor, car rental desk are among several services and amenities provided.
Hotel Address:
Km 9.5 Carretera Norte
Zip Code:
11052
Telephone:
+(505) 2255-5888
Rating:

Website:
http://www.caminoreal.com.ni
Reservation Email:
reservashcr@caminoreal.com.ni
Details
Restaurants
Photos
Guest Rooms & Features
Our 121 Guestrooms & Suites feature, Wi Fi, LED TV, A/C, and Safety Deposit Box.
---
Conference & Convention Facilities
11 Meeting rooms. Max capacity: 2,000 paxs
---
Recreation & Guest Services
Gym and Spa, Tennis courts, Pharaohs Casino.
---
Places of Interest
Old Cathedral and Palace: 9kms
Managua Pier and Salvador Allende Harbor and Restaurants: 9kms
Galerias Shopping Center: 8kms
Masaya Volcano: 18kms
Apoyo Lagoon: 28kms
Granada Colonial City: 34kms