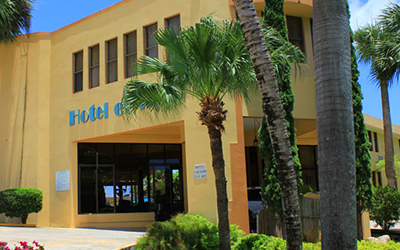 Welcome to Parador El Faro in Aguadilla, founded in 1991 in the northwest Puerto Rico, a truth getaway with affordable rates that offer a relax atmosphere with its grounds cover 17 acres of tropical landscaping. Parador El Faro caters to both business and family travelers. Parador El Faro , coexisting in harmony with nature results in an exquisite balance of natural and man-made wonders. Open-air architecture featuring indigenous materials gracefully rises from artfully designed tropical gardens, native flowers; soaring palms and peaceful atmosphere. Parador El Faro located in Porta del Sol, the west of Puerto Rico, is just 5 minutes from Aguadilla International Airport.
Hotel Address:
Carr. 107, Km.2.1 (To Ramey) Bo.Borinquen
Zip Code:
00603
Telephone:
787-289-9191
Rating:

Website:
http://www.ihphospitality.com/PARADORELFARO/
Reservation Email:
reservaciones@ihphospitality.com
Details
Restaurants
Photos
Conference & Convention Facilities
Parador El Faro has three activity rooms: Rafael Hernández, José de Diego and Los Proceres, available for all types of activity (theater, banquet or schoolroom). The rent of the activity rooms includes tables, chairs, tablecloths and all your needs for that special occasion.
Rafael Hernandez Salón seats 160 guests for banquet or reception and up to 225 guests for theather.
José De Diego seats 130 guest for banquet or reception and up to 200 guests for theather.
Los Próceres our small meeting room seats up to 30 guests for theater.
---
Recreation & Guest Services
Parador El Faro offers unrivalled services and facilities including gastronomic options and two outdoor pools as well as any other activities in Porta del Sol. At Parador El Faro we'll always recognize you for the individual that you are. We promise to deliver genuine service , focused on your real-world needs.
Parador services and amenities:
An excellent Meson Gastronómico Tres Amigos. Open every day with Creole food.
Two large swimming pools
Baggage Storage
Free parking
Room service: from 7:00am to 10 pm.
Tourist information in front desk
Beauty Salon
Meeting Rooms for activities like conventions, banquets, or seminars.
24-hour reception open for your convenience
Beautiful gardens surrounding the property