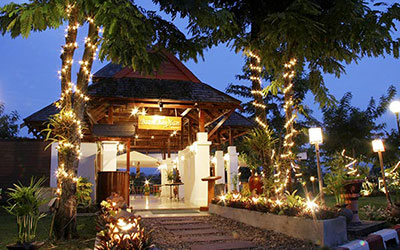 Centra by Centara Hotel Mae Sot is a short 10-minute drive of Mae Sot Airport and a picturesque four-hour drive from Chiang Mai. The hotel offers easy access to a choice of cultural and natural attractions.
Hotel Address:
100 Asia Rd.
Telephone:
+66 (0) 5553 2601 - 8
Rating:

Website:
https://www.centarahotelsresorts.com/centra/cms/
Reservation Email:
cms@chr.co.th
Details
Restaurants
Photos
With 119 rooms and suites scattered across four wings and with living areas ranging from 26 to 62 square metres, Centra by Centara Hotel Mae Sot makes for a comfortable base for groups and for holidaymakers that want to explore the region and cross to neighbouring Myanmar.
Wireless internet access is provided with our compliments in all rooms and suites, allowing you to stay connected during your stay.
A lakeside setting that instils tranquillity, easy access to the airport and to Mae Sot Town and a choice of seven event venues makes the Centra by Centara Hotel Mae Sot one of the premier meeting and conference venues in Tak. • Outdoor swimming pool
• Children's pool
• Fitness centre
• Thai massages available upon request
• Two floodlit tennis courts
• Babysitting service available upon request
• Complimentary wireless internet access
• Shuttle service to and from Mae Sot Town and Rim Moei Market available upon request
• Excursions and activities available on request
• Gift shop
• Airport transfers
• Medical services
• Laundry services
• Foreign currency exchange