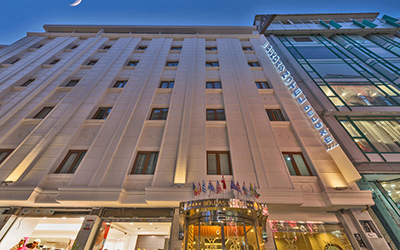 Bekdaş Hotel Deluxe is located in the historic centre of Istanbul, 1 km from the Grand Bazaar and 2 km from the Blue Mosque and St.Sophia. 1km to the Suleymaniye Mosque 10 minutes by walking to Sultanahmet (Blue Mosque - St.Sophia) Lutfi Kırdar Congre center is 7 km, the nearest fair site (Tuyap) 30 km, to the nearest Airport (Ataturk Int'l. Airport). 5 minute walking distance to the nearest bus stop 3 minutes walking distance to the nearest metro station (Tram car ‐ Istanbul University)
Hotel Address:
Mimar Kemalettin Mah. Derinkuyu Sokak No:4
Zip Code:
34130
Telephone:
+90‐212‐638 36 82
Rating:

Website:
www.bekdashoteldeluxe.com
Reservation Email:
info@bekdashoteldeluxe.com
Details
Restaurants
Photos
Guest Rooms & Features
√ 6 Suites
√ 4 Connected Rooms
√ 2 Disabled Room
√ 85 Luxury Rooms
All of our rooms are elegantly designed with the standard amenities; Both
central & manual air conditioning systems in every room, LCD TV, Internet
access – wireless, Minibar, Hair dryer, Direct dial phone, Wake-up call service,
Bathroom Makeup mirror, Opening Windows, In-room safe, Complimentary
coffee/tea service in all rooms.
---
Recreation & Guest Services
Access for disabled
* Air conditioning
* Bar
* Business center
* Cafeteria
* Meeting facilities
* City guide/tour
* City maps
* Credit cards accepted
* Meeting room
* Concierge
* Currency exchange
* Diet meals available
* Entertainment program
* Entire property is air-conditioned
* Front desk ‐ fax service
* Fitness center
* Groups welcome
* Multilingual staff
* Newspapers
* Rent a car in the hotel
* Restaurant
* Room service ‐ 24 hour
* Sauna
* Satellite TV
* Snack bar
* Steam bath
* Tourist information
* Wireless internet at public area and rooms
(free of charge)
---
Places of Interest
* Sultanahmet (the old city) 2 km
* Eqyptian Bazaar (Spice Bazaar) – 2,3 km
* Taksim – 6 km
* Miniaturk – 5 km
* Istiklal Street – 5,0 km
* Pierre Loti – 6.5 km
* Hippodrome – 2 km
* Eqyptian Obelisk – 2 km
* Bosphorus Bridge – 10 km
* Golden Horn – 2,5 km
* Beylerbeyi Palace – 8 km
* Hagia Sophia – 2 km
* Blue Mosque – 2 km
* Basilica Cistern -2 km
* Grand Bazaar – 800 m
* Topkapi Palace – 2 km
* Dolmabahçe Palace – 6 km
* Galata Tower – 4 km
* Yenikapi Ferry Port 2 km