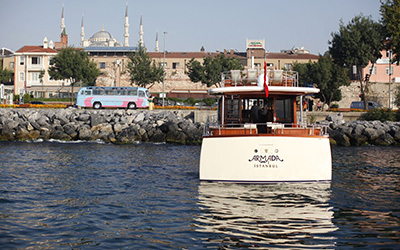 The Armada is located in the center of Old Istanbul, both easily accessible and an easy starting point for other destinations.
Hotel Address:
Cankurtaran Mah., Ahırkapı Sok. No:24, Sultanahmet/ İstanbul
Zip Code:
34122
Telephone:
+90 212 455 4455
Rating:

Website:
http://www.armadahotel.com
Reservation Email:
reservations@armadahotel.com.tr
Details
Restaurants
Photos
Guest Rooms & Features
Armada has 108 rooms decorated in the common style of Ottoman-Turkish civil architecture offering a subtle blend of the past and future complete with all of the conveniences of modern technology. Hand -made engravings with colorful flower motifs on wooden furniture has been used in the rooms.
The refurbished ventilation system not only provides fresh air to every room, it also features the implementation of a "personalized air-conditioning" system that allows each guest to adjust the temperature in their room to their liking. There are 2 special rooms for the handicapped and 40 rooms reserved for non-smokers.
Electricity: 220 volt / 50 cycle.
---
Conference & Convention Facilities
| | | | | | |
| --- | --- | --- | --- | --- | --- |
| | Barbaros | Preveze  | Reis  | Kadırga  | Levend  |
| Dimensions (m) HxLxW | 3x20x10 | 3x20x8 | 3x9x7 | 3x7x5 | 3x6x4 |
| m² | 195 m² | 170 m² | 60 m² | 33 m² | 20 m² |
| Classroom Layout | 93 | 90 | 33 | 20 | – |
| Theater Layout | 180 | 160 | 50 | 30 | – |
| U Table Layout | 40 | 50 | 23 | 15 | 12 |
| Round Table Layout | 152 | 120 | – | – | – |
| Cocktail Layout | 200 | 175 | – | – | – |
Technical Equipment
• Flip Chart
• "BOSE"Professional Sound System and Video equipment
• Overhead projector
• Barcovision (for a fee)
• Screen (3×2)
• DVD Player
• TV
• Video
• Wireless Microphone
• Lapel Microphone
---
Recreation & Guest Services
Lounge & Radio Bar – Hospitality Desk
Internet&Computer Point – Private Garage
---
Places of Interest
Topkapi Palace, Hagia Sophia, Hippodrom, Blue Mosque, Grand Bazaar