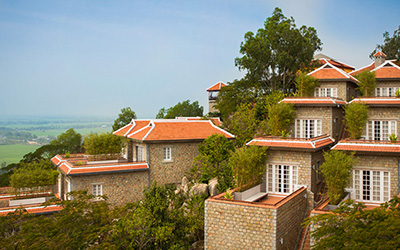 Set in the scenic beauty of nature and cultural richness of the Mekong Delta region, built on the hillside of Sam Mountain, Victoria Nui Sam Lodge offers guests insights into the countryside life. A magnificent location with a breathtaking 180o view is ideal to spend quality time and re-connect with nature. Close to the Cambodian border, it is the perfect en-route stop for discerning travelers looking for more than just a glimpse of the Mekong Delta. Khmer, Cham and Vietnamese communities live side by side in a stunning landscape, including Tra Su otherworldly bird sanctuary.
Hotel Address:
Vinh Dong 1, Nui Sam Ward, Chau Doc, An Giang, Vietnam
Telephone:
+84 (76) 3575 888
Fax:
+84 (76) 3575 887
Rating:

Website:
http://www.victoriahotels.asia/en/34/our-hotels-footer-hoian-nuisam
Reservation Email:
reservation@victoriahotels.asia
Details
Restaurants
Photos
Guest Rooms & Features
Set on the verdant mountainside of Nui Sam, Victoria Nui Sam Lodge's tastefully simple 36 bungalows are all about modern minimalism in keeping with the natural surrounds. Cool tile floors meet sleek wood furnishings all in the earthy red color scheme, allowing Nature's décor to dazzle with her unlimited palette of earthy browns, vibrant greens and cheery yellows.
Please note that there is no elevator on site. Contact us for more information if you are concerned about mobility issues.
---
Conference & Convention Facilities
Victoria Nui Sam Lodge, with its fully equipped and modern meeting factilities is the perfect venue for your company meetings, team buildings and workshops in Chau Doc for up to 30 persons
Conference room features include:
Overhead projector & tripod screen
LCD projector & slide projector
Portable wireless microphone
DVD player
Flip chart, white board and market
We offer all inclusive meeting packages and specialize in organizing private events for companies and individuals