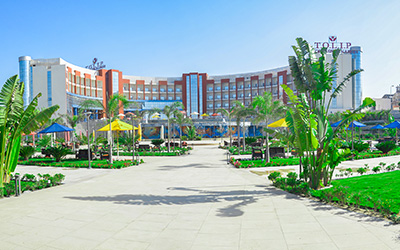 Ideally located in the heart of New Cairo, the most finest districts of the city, the fifth settlement in New Cairo, in one of the largest famous streets (Al Tes'een) or Street 90. The TOLIP El Narges Resort & Spa is 15 minutes away from the Cairo International Airport and a few minutes from the Cairo Festival City , one of the biggest shopping Malls in Town.
Hotel Address:
Al Tesseen St., 5th Settlement, New Cairo
Zip Code:
11835
Telephone:
0020226170007
Rating:

Website:
http://www.tolipelnarges.com
Reservation Email:
reservation@tolipelnarges.com
Details
Restaurants
Photos
Guest Rooms & Features
The hotel offers 125 rooms and suites, whose decor elegantly blends contemporary modern design and elegant chic. All are gracefully integrated into the natural environment, with gardens and balconies overlooking the magnificent pool, and inviting you to slow down and take it easy. A captivating mix of fine modern living and acclaimed warm and genuine Egyptian service. An exceptional service offer personalizing guest's request and desires to an art form.
---
Conference & Convention Facilities
The TOLIP El Narges Resort & Spa has 3 meeting rooms that can be adapted and personalized as well as a 400 sq.m. conference room offering the best of multimedia technology and equipment. The Meetings Planner becomes the unique contact to design a tailor-made project while creating memorable experiences for the participants. A personalized service for unique, inspired and inspiring meetings.
---
Recreation & Guest Services
At The SPA, the environment's absolute serenity, the original olfactory signature, the exclusive rituals and the technically advanced care given by highly qualified personnel help create a sense of total well-being, for a harmony of body and mind.
The Health Club offers fitness and well-being equipment at the leading edge of technology and design.