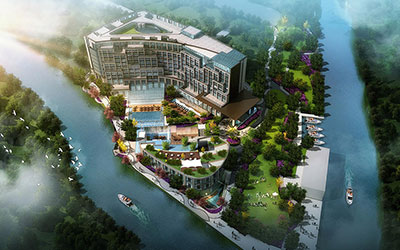 In Sanskrit "Anandi" means infinite joy . The Anandi Hotel and Spa is a new wellbeing luxury hotel. It has partnered with German professional association "Healing Hotels of the World" and proud to be the first Healing hotel in China . It features various unique facilities and services focusing on offering relaxing and refreshing experiences by restoring energy and balance. The Anandi Hotel and Spa is located in central Hongqiao, adjacent to the Suzhou River and in close proximity to the city's most prominent commercial business zones. Bearing testament to its true luxury essence, the hotel has also been selected as the fifth member in China of the prestigious "Leading Hotels of the World".
Hotel Address:
No.7 Linhong Road, Changning District
Telephone:
021-22279999
Rating:

Website:
http://www.theanandi.com
Reservation Email:
reservation@theanandi.com
Details
Restaurants
Photos
Offerings include 328 rooms ( 155 king guest rooms, 122 twin guest rooms ) , 5,000 sq. m of conference and events facilities including a 1,500 sq. m outdoor wedding lawn, multiple food and beverage outlets and a state of the art Healing Touch with 100+ world-renowned healing programs enables The Anandi to be the most comprehensive luxury hotel for the people who willing to reenergize their lives through transformative experiences.
All guest rooms at The Anandi feature spatial "reenergizing" designs and features which include energy stimulating stones, Himalayan salt lamps, negative ion "earth beds" which promote deep sleeping. The Club Level on the 10th floor offers instant check-in and check-out, one- stop business center services, a dedicated Club Lounge and private meeting rooms aimed at improving efficiency and quality of business.