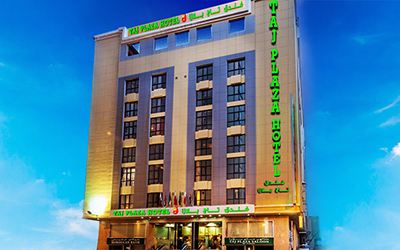 The Taj Plaza Hotel is located at the corner of Juffair Avenue, Close to US Naval Base.Taj Plaza Hotel is a 15 minutes drive from the International Airport. The main city Bab al Bahrain is a 15 minutes ride from hotel, while the shopping malls are within 20 minutes drive.
Hotel Address:
P.o Box 10733, Manama
Telephone:
+973 17 815 801
Fax:
+973 17 815 815
Rating:

Website:
http://www.tajplazahotel.com/
Reservation Email:
info@tajplazahotel.com
Details
Restaurants
Photos
Guest Rooms & Features
Modern comfortable 100 keys hotel with all suites rooms including 20 connecting suites, all furnished to international standards & equipped with:
Private bathroom & shower
Central air-conditioning
Colour television/satellite TV Channels
Mini Bar
Free Internet &Wifi
Direct International Telephone lines
Connecting rooms / No smoking rooms handicap room available
Most of the rooms accord magnificent view
24 Hours room service
---
Conference & Convention Facilities
Meeting Room / Business Center
---
Recreation & Guest Services
Massage center / Swimming Pool / Gym .