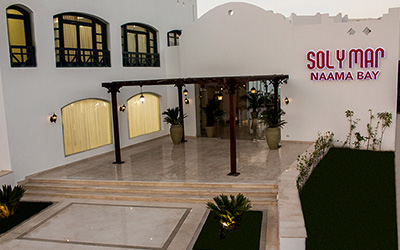 The Sol Y Mar Naama Bay is located in the heart of Sharm El-Sheikh. This clean and modern Four-star resort is only ten minutes away from Sharm El-Sheikh International Airport and a short walk from a stretch of some of the finest sandy beaches on the shores of the clear and warm Red Sea and the vibrant downtown nightlife of Naama Bay itself. The hotel includes a main restaurant having large terrace with magnificent view of Naama Bay & the Red Sea, two bars, swimming pool, kids' pool, entertainment & kids' activities, evening shows, an internet service & a free shuttle bus to the beach. Wide range of sports like snorkeling, windsurfing, kite surfing and diving in Naama Bay; enabling guests to experience the rich under waters of the Red Sea. Hotel facilities include main restaurant with a large terrace with magnificent view of Naama Bay & the Red Sea, two bars, swimming pool, kids' pool as well as a nearby wide range of sports in Naama Bay, animation programs, live music and cabaret entertainment in the evenings. For peace of mind, an on-site doctor is also available. Special programs for children between the ages of 4 and 12. Youngsters can be occupied all day using their own freshwater swimming pool.
Hotel Address:
Naama Bay P.O.Box 312
Telephone:
+20-(069) 360 4501
Fax:
+20-(069) 360 4504
Rating:

Website:
http://www.jaz.travel/destinations/egypt/sharm-el-sheikh-hotels/solymar-naama-bay.aspx
Reservation Email:
info@solymarnaamabay.com
Details
Restaurants
Photos
Guest Rooms & Features
The Sol Y Mar Naama Bay has 195 comfortable and pleasantly furnished guest rooms:
83 Standard Rooms (20m2 – 30m2)
60 Superior Rooms (30m2 – 38m2)
22 Family Rooms (38m2 – 45m2)
30 Superior Family Rooms (40m2 – 70m2)
All rooms are individually air conditioned and feature a balcony or terrace. Non-Smoking rooms are available on request. All rooms are also fully equipped with:
Bathroom with shower
Satellite TV
Minibar
Personal safe in the room for storing valuables
---
Conference & Convention Facilities
Sharm is world famous for its incredible diving sites and the astonishing variety of marine life just a step away in the Red Sea and Naama bay is at the heart of what makes this place great. Try snorkeling or visit one of the many diving centers to get a taste of the world of SCUBA diving.
Laze by the pool, tan on the beach or try windsurfing or kitesurfing and a host of other watersports.
If retail therapy or gifts for the folks at home is your bag, you're sure to find something in the nearby shopping arcade that would make a great souvenir of your holiday to Egypt. Join in the fun and games organized by the animation team during the day.
In the evening, get entertained by the live cabaret, music and dancing shows held regularly.
A kids' play area will keep your young ones occupied all day in games or in their own pool, supervised by professional and enthusiastic animation team members, so you can unwind and relax secure in the knowledge that the kids are having a ball.