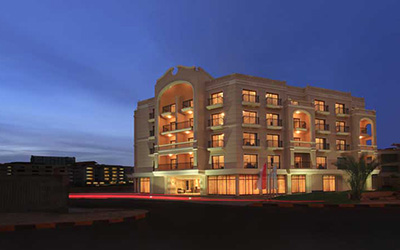 Sol Y Mar Ivory Suites is a compact and family-friendly boutique four-star hotel situated just 1 km away from Hurghada International Airport and within easy walking distance of the city centre of Hurghada. It's relaxed and very human scale with just 48 pleasantly furnished studios and apartments all enjoying a balcony or a terrace and equipped with the standard amenities. A main restaurant featuring international cuisine serves breakfast and dinner.

Guests have exclusive access to the hotel swimming pool and kids' pool. Guests can also use the facilities and amenities of the nearby five-star Jaz Aquamarine resort, located in the heart of the city only 10 km away from Sol Y Mar Ivory Suites against 10 € per person including shuttle bus & one soft drink.
Hotel Address:
El Kawsar District
Telephone:
+20-(0) 65 3462 610
Fax:
+20-(0) 65 3462 888
Rating:

Website:
http://www.jaz.travel/destinations/egypt/hurghada-hotels/solymar-ivory-suites.aspx
Reservation Email:
res@ivory-suites.com
Details
Restaurants
Photos
Guest Rooms & Features
Sol Y Mar Ivory Suites features 48 pleasantly furnished guest rooms:
44 Studios (50m²)
4 Apartments (80 m²)
All rooms are individually air conditioned and feature a spacious balcony as well as a fully equipped kitchen. All guest rooms also feature:
Bathroom with shower
Satellite TV
Internet access , minibar and in-room safe
---
Conference & Convention Facilities
A pool is available exclusively for use of Sol Y Mar Ivory Suites guests and a safe freshwater pool is also available especially for kids. The extensive facilities of Iberotel Aquamarine are also open for use any time by the hotel residents against 5 € per person including one soft drink. These include tennis courts and a fully equipped gym, massage, sauna and steam rooms against charge.
Hurghada town centre is only minutes away with its nightlife, shopping and many clubs and bars frequented by people of all ages. Hurghada is one of the preferred Red Sea destinations for wind surfing, sailing, deep-sea fishing, swimming and above all, snorkeling and scuba diving. The warm waters are ideal for rare fish and coral reefs and attract those who enjoy sun, swimming and scuba.