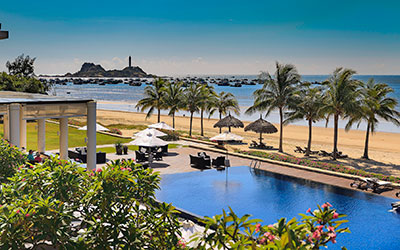 A romantic luxury 5-star resort in the heart of Ke Ga Bay, this royal sanctuary is the perfect beach destination for your next couple's intimate escape. Designed by award-winning architect Tan Hock Beng, this 57-all-villa retreat is home to an award-winning spa, two epicurean restaurants and a bar, serene pools and Heliconia-filled gardens.
Hotel Address:
Hon Lan, Tan Thanh Commune, Ham Thuan Nam
Telephone:
(84 252) 3682 222
Rating:

Website:
http://www.princessdannam.com/
Reservation Email:
reservation@princessannam.com
Details
Restaurants
Photos
Guest Rooms & Features
Built around a courtyard with two pools, Mandarin Villas feature the central location among the resort's gardens. Tropical landscape and leafy trees provide privacy to individual balconies, where guests can enjoy the balmy seaside evenings.
Princess Villa comes with a private courtyard and plunge pool, guests fully enjoy the hidden environment to unwind the tropics. The open-air Balinese bathroom allows guests to sink into a state of bliss while surrounded by the lush natural flora and fauna.
The two-floor Empress Villas offer an intimate hide-away and a panoramic view of Kê Gà Bay from the balcony. Award-winning architecture pairs perfectly with contemporary design and natural surroundings.
Conference & Convention Facilities
The resort features three multi-functional meeting rooms with natural day-light, build in AV systems and a large pre- and post-meeting area for coffee and tea breaks.
Free Wi-Fi in all function rooms for international online meetings, delivering the experience necessary to ensure that your program objectives are achieved.
Recreation & Guest Services
Relax at the spa that overlooks the ocean. Guests can choose from the many treatments in the expansive spa which spans 10 treatment rooms and a spa pool. Princess D'An Nam also offers a modern 24-hour fitness center.
Choose from 14 free activities on-site including water sports, excursions, yoga, Tai Chi, cooking classes, private jeep and speed boat trips. Guests can enjoy other paid activities on and around the properties.
Places of Interest
Ke Ga lighthouse, Ta Cu mountain