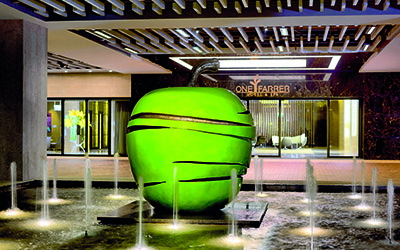 One Farrer Hotel & Spa is a five-star urban resort defined by an intuitive and trend setting approach towards lifestyle and hospitality. Situated in one of Singapore's heritage districts next to Farrer Park MRT station, this luxury hotel features a permanent collection of over 700 pieces of original contemporary abstract art from across Greater Asia, the largest of its kind in Singapore. Spanning its 20 Levels, residents can explore 14 water and tropical Gardens, including a fully operational Farm.
Hotel Address:
1 Farrer Park Station Road
Zip Code:
217562
Telephone:
+65 6363 0101
Rating:

Website:
http://www.onefarrer.com/
Reservation Email:
reservations@onefarrer.com
Details
Restaurants
Photos
Encompassing three 'hotels within a hotel', the Urban Hotel, Loft Apartments and Skyline Hotel & Sky Villas, One Farrer Hotel & Spa offers a diverse range of accommodations to delight the discerning traveller, with 243 chic contemporary rooms, studios, apartments, suites and villas, designed to meet and exceed expectations. Among its thoughtful amenities, the Hotel offers complimentary mini bars and free WI Fi throughout.
Distinctive dining experiences await. At our 24-hour dining restaurant and lounge, Escape, we offer local and international fare from our interactive kitchen or extensive ala carte. menu. At our modern neighborhood-style deli, Local Fresh & Seasonal (LFS), are to be found, as the name would suggest, a varied selection of favourite comfort and contemporary foods, with ingredients that are from Local sources, Fresh daily, with some coming direct from our own Farm and all being the best that the Season has to offer. We also feature our Origins of Food food studio offering cooking demonstrations and classes. Topping it all off is our virtual restaurant, The Owen Road Diner, which provides a full selection of dining offerings around the clock for dining in your Hotel accommodations or dining out enjoyment.