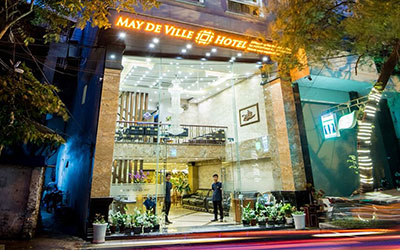 May de ville City Centre II Hotel is situated adjacent to Old Quater, nearby Nguyen Truong To and Hang Than Street. The hotel is therefore within easy reach of all our capital city's major sites of historic and cultural interest including the Ho Chi Minh Mausoleum, West Lake, and many famous temples and pagodas, the central business district, old quater, shopping areas, museums, Quan Thanh Temple, Tran Quoc Pagoda, True Back Lake. It is also just 10 minutes walk from the city's most beautiful natural landmark. "Restored Sword" or Hoan Kiem Lake. It's 57 superbly appointed rooms come in three categories: 08 Executive Suite, offering a superb blend of Oriental and Western styles of three-star hotel quality.
Hotel Address:
57 Pham Hong Thai, Ba Dinh District
Telephone:
0084 243 927 9999
Website:
http://www.maydeville.com/citycentre2/home.htm
Reservation Email:
sales4@maydeville.com
Details
Restaurants
Photos
Guest Rooms & Features
Superior room 20m2 -25m2 city view
Deluxe room with city street view or lake view, 25m2-30m2
Executive room with city street view, 30m2- 35m2
Conference & Convention Facilities
Grand Ball room : 40 pax & meeting room facilities
Recreation & Guest Services
Spa/ Massage services
Restaurant & Bar
Places of Interest
Ho Chi Minh Complex, Quan Thanh Temple, Tran Quoc Pagoda, Truc Back Lake, Dong Xuan Market….