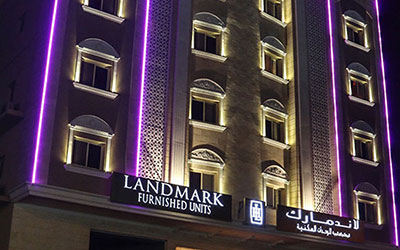 Not far from Jeddah's famous 30 km Corniche along the Red Sea, and just a 20 minute drive to the airport, Landmark International Hotel Prince Sultan is an imposing presence in bustling Al Salamah, just north of the city centre. Step inside and you're in a cooling oasis of gleaming marble floors, comfortable leather armchairs and classically-inspired furnishings. This central Jeddah hotel is air-conditioned throughout, with complimentary Wi-Fi among the thoughtful amenities for both business and leisure travellers. Smart, spacious apartments offer every contemporary comfort, with crisp white linen and stylish soft furnishings. A living and dining area and fully equipped kitchenette make these flexible spaces ideal for longer stays, with two apartments perfect for families. A friendly restaurant serves fresh and flavoursome Arabic and international dishes, and you're within minutes of the city's most popular attractions, from the Mall of Arabia and Al Shallal theme park to the atmospheric allure of Al Balad.
Hotel Address:
Arid Ibn Mahshi Street, Prince Sultan Road
Telephone:
+966 9200 05414
Rating:

Website:
http://www.landmarkhotels.com/landmark-prince-sultan
Details
Restaurants
Photos
Guest Rooms & Features
The Landmark Prince Sultan rooms feature everything you can expect from a premier aparthotel and more. With stylish shades of brown and cream, the air-conditioned rooms in the hotel also feature a living room, a dining table, and a full kitchenette. Featuring 24-hour reception, room service, currency exchange, and only a short car journey away from King Abdulaziz International Airport. A suite at the Landmark Prince Sultan is the ideal solution for the traveller seeking both style and substance.
---
Conference & Convention Facilities
With two private meeting spaces as well as 49 rooms, business travellers can make connections and hold impromptu meetings from the comfort of their hotel.
---
Recreation & Guest Services
Thanks to the state-of-the-art health centre at the Landmark Prince Sultan, you can maintain that all-important exercise programme even when away from home. Featuring everything from free-standing weights to a swimming pool, as well as a range of cardio machines, this is the kind of gym that's a pleasure to spend time in.
If you don't already exercise regularly, now's the time. If you do, then you'll be relieved to find a health centre so well-equipped on your travels. After all, breaking good habits on holiday will make it that much harder to get back into the swing of things when you're back!