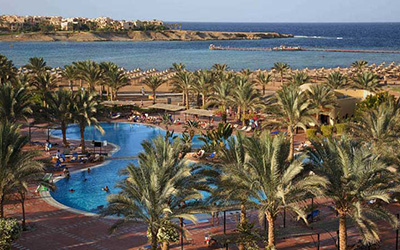 Jaz Solaya is located in the beautiful Madinat Coraya overlooking Coraya Bay. Just 5 km from Marsa Alam International Airport, it's perfect for diving and snorkeling enthusiasts as its warm, jewel-colored waters are home to all kinds of rare and wonderful fish and marine life. This self-contained and all inclusive resort offers everything you need for a perfect family beach holiday in one of Egypt's most peaceful destinations on the Red Sea coast. Have fun with the crowd or simply relax on the private beach or at one of the spectacular swimming pools. In the evening, you can indulge in a romantic dinner on the restaurant terrace while the kids are safe and secure.
Hotel Address:
Madinat Coraya - 67 Km Quseir
Telephone:
+20-(0) 65 3750 015
Fax:
+20-(0) 65 3750 024
Rating:

Website:
http://www.jaz.travel/destinations/egypt/madinat-coraya-hotels/jaz-solaya.aspx
Reservation Email:
reservation@jazsolaya.com
Details
Restaurants
Photos
Guest Rooms & Features
Jaz Solaya has 209 comfortable and pleasantly furnished guest rooms.
115 Superior rooms (34 m²)
94 Deluxe Family rooms (41 m²)
All rooms are individually air conditioned and have either a balcony or a terrace. Non-Smoking rooms are available on request. All rooms are fully equipped with:
Bathroom with shower
Satellite TV
Mini bar
Hairdryer
Direct dial international telephone
In -room safe
---
Conference & Convention Facilities
Madinat Coraya is rapidly gaining a reputation for some of the most beautiful diving sites and the most astonishing variety of marine life just a step away in the southern Red Sea. Dozens of large turtles can often be seen feeding in the bay and dugong frequent its calm and serene waters too. Try snorkeling or visit the nearby diving center (www.coraya-divers.com) to get a taste of the world of SCUBA diving. You can snorkel by simply wading into the sea from the pristine beach. The hotels own private jetty provides easy access to deeper waters
The hotel has two large swimming pools, one is heated during the winter, but if lounging in or beside the pool is too lazy for you, there are plenty of activities on offer.
Beach volleyball and beach soccer
Aerobics, table tennis, darts and archery
Floodlit tennis courts (at extra charge)
Health Club with gym where you can luxuriate in a Jacuzzi, massage (against charge), steam bath or sauna.
Quad Bike hire
Our animation team organizes daily activity programs and hosts live music, dancing and folklore shows that are performed regularly in the evening at the hotel's theatre.
The kids club is open daily and provides supervised childcare from 10.00 am till 5.00 pm. Special activity programs are designed for young ones aged between 4 and 12. Children also have their own playground and a separate freshwater swimming pool.