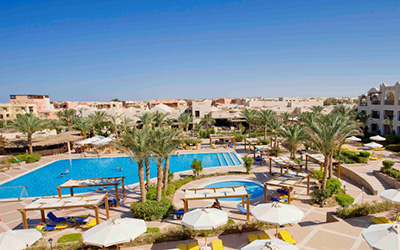 Jaz Makadi Star & Spa is a real oasis on the Red Sea. Located in Madinat Makadi, 30 Km from Hurghada Airport, Jaz Makadi Star & Spa offers all the ingredients for a perfect relaxing holiday in Egypt. Stylish and intimate with personal service and deluxe amenities, this resort is all about total relaxation. Pamper body and soul and give in to the allure of the warm waters of the Red Sea and a long, sandy beach. The Luxurious Makadi Spa will reinvigorate your being. Souk Makadi offers almost endless possibilities to shop or wine and dine to your heart's content. Take it as fast or as slow as you like in this five-star retreat that's won accolades including TUI Holly awards for 2007, 2008, 2009, 2013 and TUI Environment Award, Tui Eco Resort, Hygiene Silver Award and ISO-14001 Awards in 2008 and 2009.
Hotel Address:
Makadi Bay - 34 Km - Safaga Road
Telephone:
+20-(0) 65 - 359 05 80
Fax:
+20-(0) 65 - 359 05 89
Rating:

Website:
http://www.jaz.travel/destinations/egypt/madinat-makadi-hotels/jaz-makadi-star-spa.aspx
Reservation Email:
reservation@jazmakadistar.com
Details
Restaurants
Photos
Guest Rooms & Features
Jaz Makadi Star & Spa has 167 well appointed and comfortable rooms or suites in which you can begin your luxury holiday:
· 110 Superior Rooms (32 m²)
· 45 Superior Family Rooms (45 m²)
· 5 Junior Suites (64 m²)
· 7 Royal Suites that include a private heated swimming pool only in the winter and a pool deck
All rooms are individually air conditioned and have a terrace furnished with two chairs and a table. Non smoking rooms are available on request. Other standard room features include:
Luxury bathroom with shower and WC
Satellite TV and international direct dial telephone
Mini bar and personal safe
Hairdryer
For Suite Rooms : Espresso Machine with 2 capsules supply per day, free of charge.
---
Conference & Convention Facilities
Begin the day on the pristine sandy beach or explore the crystal-clear waters. Get active with a variety of water sports like waterskiing, windsurfing, sailing and parasailing.
The heated swimming pools (during winter) is made for all-day lounging and relaxation. If you prefer the real thing, then the hotel's private beach with access to the nearby coral reefs full of stunning marine life is readily to hand and the diving centre will introduce you to the magic of snorkeling and SCUBA diving (charged extra).
Other facilities include:
Tennis and golf
Volleyball and football
Billiards and tennis tables
When you are done, the lavish and world class Makadi Spa awaits tired limbs and spirits, reviving and reinvigorating with a range of treatments, massages, water therapies and relaxation programs. Visit the adrenaline pumping Makadi Water World aqua park to try one of its 50 thrilling slides for both adults & kids (against charge). Or simply sit back and enjoy the regular nightly live music, dancing and cabaret at the hotel's lobby terrace performed every evening.
For youngsters between the ages of 4 and 12 years old there is a Kids Club, which is open daily. It provides supervised childcare and organized fun activities using a dedicated playground area