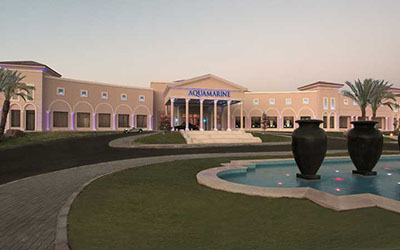 Jaz Aquamarine Resort is made for those who want to spoil themselves with the prefect, relaxed, luxurious five-star Egypt holiday. The resort is located on the southern tip of Hurghada with its own unspoilt private beach and three aqua parks consisting of 14 slides for adults with the maximum height of 12 meters and eight slides for kids. This impressive complex features four restaurants serving Asian, Italian, Sea Food and Middle Eastern cuisines in a la carte luxury, in addition to one main restaurant serving different theme buffets and four specialty buffets restaurant. It boasts over 1,001 comfortable rooms for families, couples and singles equipped with all the latest facilities, services and amenities. Hurghada has an excellent reputation for the quality of its diving and it's the best place imaginable for those wanting to learn to dive. The long stretching coastline, pristine beaches and coral reef islands of Shadwan, Giftun and Gubal make this a diving destination par excellence, and Jaz Aquamarine Resort's diving center is there to help get you started.
Hotel Address:
South Magawish Road
Telephone:
+20-(0) 65 34611 00
Fax:
+20-(0) 65 34611 09
Rating:

Website:
http://www.jaz.travel/destinations/egypt/hurghada-hotels/jaz-aquamarine-resort.aspx
Reservation Email:
reservation@jazaquamarine.com
Details
Restaurants
Photos
Guest Rooms & Features
Jaz Aquamarine Resort features 1,001 high quality, comfortable guest rooms split into:
• Standard Rooms
• Family Rooms
• Superior Rooms
• Suites
All rooms are individually air conditioned and feature a spacious balcony or garden terrace with two chairs and a table. All rooms are non-smoking. Rooms also feature:
• Luxury bathroom with shower
• Satellite TV and international direct dial telephone
• Minibar, hairdryer and in-room safe
• Tea and coffee making facilities
*For Suite Rooms : Espresso Machine with a supply of 2 capsules a day , free of charge .
---
Conference & Convention Facilities
Hotel facilities are extensive, including wireless internet access (included 150 Mbs complimentary, available in the lobby and all public areas), an array of excellent restaurants and bars, 18 fresh water pools including 4 kids' pools (some of which are heated during winter), 2 beach Jacuzzi; three adult aqua parks with 3 swimming pools and 22 water slides plus kids' aqua park , a laundry service and a variety of gift shops and retail outlets. Indulge in water sports as well as deep sea fishing, beach volleyball, camel rides and more. If you prefer your day to be more relaxed, then the mivida Spa & beauty salon would be the perfect place to visit. Take in the regular evening cabarets and shows in the hotel's' theatre whilst your young ones get involved with the array of activities at the kids club, games room and activities organized by a fun loving animation team. A baby sitting service is also available (subject to availability and against charge) and a resident doctor is permanently on-call.