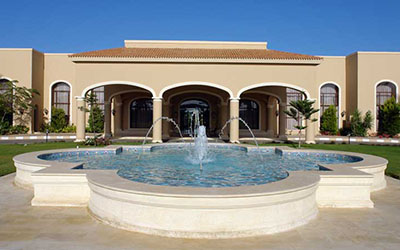 Jaz Almaza Beach Resort nestles on the Mediterranean Sea, just 38 km east of Mersa Matruh on the northern coast of Egypt. Breathtaking views and the crystal clear waters of the Mediterranean combine with the fine white sands of Almaza Bay to provide the best in an Egyptian and Mediterranean holiday. Jaz Almaza Beach Resort sits sympathetically with its Mediterranean style architecture and provides a complete range of five-star facilities, amenities and service. Here, you can experience a holiday to Egypt that is relaxing and life affirming. Luxuriate in spacious rooms and savour lavish cuisine. Indulge in a variety of sports and recreational activities all within the impressive environment of this finely-appointed resort. The hotel's greatest attraction is its safe, secluded beach and bay. Experience one of the best-kept secrets of the southern Mediterranean Riviera with all the warmth, hospitality and attentive service you would expect from any Jaz resort including a shuttle service to and from Matruh Airport (upon request)
Hotel Address:
Almaza Bay, 37 Km East
Telephone:
+20-(0) 46 - 436 00 00
Fax:
+20-(0) 46 - 436 00 01
Rating:

Website:
http://www.jaz.travel/destinations/egypt/mersa-matruh-hotels/jaz-almaza-beach-resort.aspx
Reservation Email:
reservation@jazalmazabeachresort.com
Details
Restaurants
Photos
Guest Rooms & Features
Jaz Almaza Beach Resort has 395 tastefully furnished and decorated guest rooms:
122 Superior Rooms (34 m²)
270 Superior Family Rooms (42 m²)
3 Executive Suites (114 m²)
All rooms have a spacious balcony or terrace and are individually air conditioned. Other standard room features include:
Bathroom with shower
Satellite TV and international direct dial telephone
Mini bar and personal safe
Hairdryer
High speed Internet access (charged extra)
Tea & Coffee making facilities
For Suite Rooms : Espresso Machine with a supply of 2 capsules a day , free of charge .
---
Conference & Convention Facilities
Jaz Almaza Beach provides a wide range of sporting and fitness facilities and activities including water polo, beach tennis/volleyball, basketball and handball. Laze beside or cool down in any of the impressive pools and keep in touch with loved ones at home using the Internet café in the lobby. Other activities include:
Table tennis
Billiards and darts
Two floodlit tennis courts (charged for hire)
To tone up body as well as mind, indulge in aerobics, a massage or a workout at the gym and Health club. Visit the shopping arcade or be entertained by the live music, dancing and folklore performances regularly featured at the hotel's amphitheatre. If the mood takes you, dance the night away at the open air disco.
A Kids Club is open daily for young guests aged 4 to 12. It's well supervised with organized activities, courtesy of our dedicated animation team, using dedicated children's play areas and the two separate children's freshwater pools. You can indulge yourself knowing that your kids are safe and happy at play for hours on end.