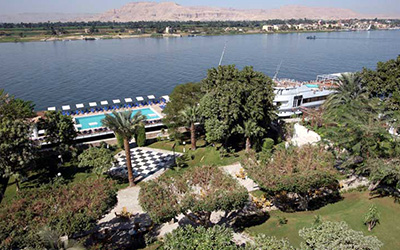 Iberotel Luxor has an excellent location overlooking the banks of the Nile and is ideal for romantic getaways or honeymoons or those fascinated by the marvels and mysteries of ancient Egypt. Centrally located in Luxor directly on the ancient vivifying Nile and just ten minutes walking distance from the Temple of Luxor , this four-star property offers spectacular views of the river, the west bank and the distant hills of Thebes from its rooms and from the verdant garden terrace. Near the hotel, the ferry crossing to the west bank will allow you to visit the Valley of the Kings, Valley of the Queens, Hatshepsut Temple and the Memnon Colossus. The Temple of Karnak is just three km away. The Souk (market) is only 20 minutes stroll from the hotel or get a taxi in front of the hotel to transport you to any place you desire.

Luxor today is a city of 150,000 people and boasts many facilities and amenities for visitors looking for luxury holidays to Egypt as well as an insight into past glories.
Hotel Address:
Khaled Ibn El Waleed Street, East Bank
Telephone:
+20-(0) 95 2380925/ 6
Fax:
+20-(0) 95 2380 972
Rating:

Website:
http://www.jaz.travel/destinations/egypt/luxor-hotels/iberotel-luxor.aspx
Reservation Email:
reservation@iberotelluxor.com
Details
Restaurants
Photos
Guest Rooms & Features
Iberotel Luxor comprises 185 comfortable guest rooms, each 23 m²:
100 Superior Rooms with a Nile view
85 Superior Rooms overlooking the city or the hotel lobby
All rooms are equipped with air conditioning and feature a spacious balcony or French windows. Non-Smoking rooms are available on request. Rooms also feature:
Luxury bathroom with bathtub
Satellite TV and international direct dial telephone
Minibar, hairdryer, shaver point and in-room safe
Wireless Internet access (charged extra)
---
Conference & Convention Facilities
Those who visit Iberotel Luxor do so mainly to marvel at the many wonders of Pharaonic Egypt that surrounds the hotel. If your prefer more contemporary pursuits, Iberotel Luxor offers a variety of distractions, including the hotel's floating swimming pool located in the Nile, table tennis, billiards, darts, table football, backgammon and chess or cycling. It is the proximity of Iberotel Luxor to so many stunning and well preserved ancient sites that provides the real attraction for thousands of visitors.
Luxor has often been called the world's greatest open air museum because the number of well preserved monuments in the area is unparalleled anywhere else in the world. What most people term "Luxor "is really three different areas: the City of Luxor on the east side of the Nile, Karnak just north of Luxor and ancient Thebes which is on the west side of the Nile across from Luxor. These stunning remains, temples and insights into the treasures of Egyptology are minutes away and will shine in your memory for ages to come.