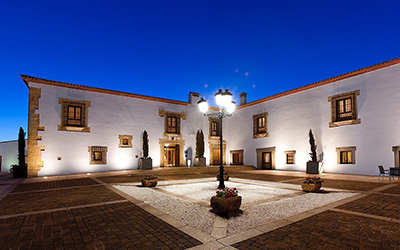 The building in which Hospes Palacio de Arenales & Spa 5 star hotel in Cáceres resides, used to be the ancient summer residence house of the Golfín family. Built in the 17th Century, this building is located within a natural and spectacular part of the city of Cáceres, surrounded by hundreds of olive trees inhabited by 81 stork nests. Located only 10 minutes from the city center, it was declared a World Heritage site by UNESCO in 1986. All of the 46 rooms in Palacio de Arenales are exterior with views, eachpresenting modern decor in contrast with the traditional architecture of the building which make it, without a doubt, a charming Hotel in Extremadura. All the services and comfort that you needare provided in order for you to enjoy a perfect vacation. This includes an outdoor pool, a playground, terrace and gardens.
Hotel Address:
Crta N-521, Km 52.100
Zip Code:
10005
Telephone:
+34927620490
Rating:

Website:
http://www.hospes.com
Reservation Email:
reservations@hospes.com
Details
Restaurants
Photos
Guest Rooms & Features
46 Rooms
18 Dreamer's
19 Deluxe
7 Junior Suite
2 Suite
OTHER SERVICES AND FACILITIES
Dressing gowns, minibar, safety deposit box, hair dryer,
ADSL, A/C and heating.
Rooms with Plasma TV.
Business Center
Free Parking (Indoor and Outdoor)
Gardens
Disabled Access
Playground
bird watching
---
Conference & Convention Facilities
MEETING ROOMS
1 room with capacity up to 350 people.
1 room with capacity up to 200 people
Natural day light.
Possibility of events on outdoor surroundings of the Hotel.
Audiovisual rental.
---
Recreation & Guest Services
BODYNA Natural Care
Masages and Treatments
Sauna, jacuzzi and Turkish Bath
Pool and Solarium
---
Places of Interest
the "Plaza de Toros" (bull's ring), "La
Casa de la Cigüeña" and the "Plaza Mayor". Other
places of interests include the Palace of "Las Veletas",
the Palace of "Los Golfines" and Cathedral of Santa
María.