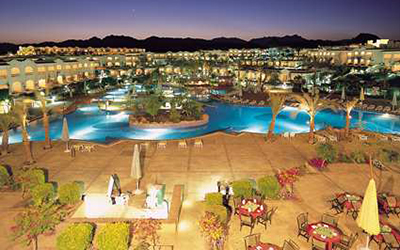 This five-star resort is located just 12 kilometres south of Sharm el Sheikh International Airport, commanding a central location in Naama Bay. The hotel is set in beautiful landscaped gardens and the entrance is only 150 metres from the beach. The Hilton Sharm Dreams resort occupies an enviable position with the bay's attractions and facilities on the doorstep. In addition, there are souvenir shops, HSBC Bank, a hairdresser and a market located in the hotel.
Hotel Address:
Naama Bay South Sinai, Sharm El Sheikh 57, Egypt
Telephone:
+20-69-3603040
Fax:
+20-69-360-2828
Rating:

Website:
http://www3.hilton.com/en/hotels/egypt/hilton-sharm-dreams-resort-SSHDRHI/index.html
Reservation Email:
dreams@hilton.com
Details
Restaurants
Photos
Guest Rooms
All rooms are well appointed and are modern and comfortable. The majority of rooms have Garden view and or Pool view and have a balcony or terrace. All rooms have the following amenities:
Satellite TV
Air conditioning with individual controls
Tea and coffee making facilities – free of charge
Balcony or terrace
Small seating area
Inter connecting rooms available on request
Safety deposit boxes in room – free of charge
Hair dryers in bathroom
Direct dial phones with international lines
Bathrooms have bath tubs and showers
Mini Bar – Every room has its own mini bar that is stocked with a selection of beverages and snacks. The mini bar will be checked daily and restocked. Any items removed from the mini bar will be charged to the room bill
Clothes line in the bathroom
Non smoking rooms – subject to hotel availability
King bed measurement – 2 x 2 m
Twin bed measurement – 2 x 1.1 m
Rooms can accommodate the following
3 adults or
2 adults and 2 children (third bed is a folding bed or a sofa bed) – please refer to above children's facilities.
The standard guest room measurement:
4m x 8m = 32 Square meters including the bathroom (2.5 m. x 2.5 m.).
Terrace is 2m. x 4m. = 8 square meters.
Suites
The suite measurements are double size of the standard rooms. (Approx. 64 square meters.)
Our spacious suites are tastefully furnished and are perfect for those wanting a little luxury and extra space. They consist of a living room and a bedroom separated by sliding doors. The living area has the following facilities, a sofa bed, two armchairs and a foot stool, coffee table, side table, writing desk, satellite television, stocked mini bar and bathroom with shower. The master bedroom has a king size bed with linen box, bed side cabinets, armchair and foot stool, satellite television and its own private bathroom with bath and shower facilities.
In addition you will find:
Tea and coffee making facilities
International direct dial telephones
Individually controlled A/C
---
Conference & Convention Facilities
None available
---
Recreation & Guest Services
Diving Centre: offering diving courses and packages for beginners and experienced divers alike. An outsource management company operates Diving Centre. Contact to the diving club in the hotel:
Holiday Diving Holiday@sinainet.com.eg
Volleyball court
Table Tennis
Billiard tables
Internet café (open 24 hours) – at a charge
Wireless connection to internet at the lobby & Caribi Bar area– at a charge.
Tennis & Squash court: A hard ground court is available at the sister hotel Hilton Sharm Fayrouz Resort. Bookings can be made by the reception. There is charge payable locally.
Casino Sharm: Door step the International Casino Sharm with different desirable and attractive facilities and gaming options
Health Club: The Health Club of the sister hotel Hilton Sharm Fayrouz resort has a Fitness room, Jacuzzi and massage
There is charge applicable, payable locally
---
Places of Interest
Cleo Park
Just a few steps next to the hotel, is the newest and first water park in city, with lots of breath taking activities and attractions.
Diving Venture
Discover the wonders and delights of the Red Sea by Diving. All dive centres offer courses and dive packages for both beginners and experienced divers.
Safaris into the desert
The spectacular desert landscape is rich with colourful mountains and canyons. Safaris into the desert can be organised with participants choosing between camels, horses, quad bikes and 4×4 vehicles. On most trips you get the change to visit a Bedouin tribe, sip the herbal Bedouin tea and in the evenings enjoy the magical site of millions of glittering stars.
Coloured Canyon
The multi coloured layers of rock makes the canyon the perfect place to experience nature at its best.
Lazy day boat trip
The coral reefs and islands in the area offer some of the most spectacular snorkelling in the world. Don't miss the opportunity to discover this amazing underwater world as you sit back, relax and soak up the sun.
St Catherine's Monastery
The oldest working monastery in the world, St Catherine's library houses the world's largest collection of religious manuscripts and icons second only to the library at the Vatican.
Mount Moses
Towering over St Catherine's Monastery at some 2285 metres stands Moses Mountain. Ascend to the summit to experience the most breathtaking sunrise.
Starlight Dinner
Enjoy a trip into the desert to experience Bedouin life of today. An oriental dinner is served to you as you relax in the calm and quiet of the desert underneath a blanket of a thousand stars.
Ras Mohamed National Park
At the southern most tip of the Sinai Peninsula, renowned for its crystal clear blue waters, exquisite coral reefs and wealth of marine life, Ras Mohamed is ideal for exploring the underwater treasures of the Red Sea.
Cairo
Cairo, home to the world famous Egyptian Museum and the treasures of the boy king Tutankhamun, the great Pyramids of Giza and so much more. Only an 1 hour flight away and a truly memorable experience.